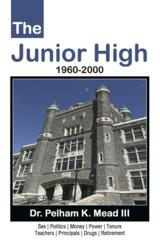 San Diego, Calif. (PRWEB) March 18, 2013
Think of drugs, political turmoil, and liberal morals and you've got the sixties. Add tumultuous school cliques and early sexuality, and you've got teachers and administrators facing a unique challenge.
The Junior High (1960-2000) is Dr. Pelham Mead's memoir of his 31 years teaching at a New York state school.
The book is written in a topical manner about a school in a Jewish community from its inception in 1960 to the closing of its doors in 2000, with a specific emphasis on the 1960s and 1970s.
Dr. Mead and his coworkers' experiences mirrored those of the politically volatile nation on a smaller, local level: teacher strikes, administrators stealing money, discrimination, student drug abuse and unruly sexual liberalness ran rampant within the school.
"Politics have and always will exist in schooling with administrators on one side of the fence and teachers on the other," says Dr. Mead. "Change comes slowly and takes a long time in school systems."
Education professionals today will learn how teachers in the past learned how to get around outdated and corrupt administrative rules to slowly create a better school system.
Not only does the The Junior High demonstrate the difficulties of teaching in certain eras, it also offers a hilarious and endearing snapshot of dedicated teachers and unruly but charming students. The style and subject matter of stories are reminiscent of the 1970s classic TV show Welcome Back Kotter.
For more information, visit: http://www.pelhammeadsnovels.com.
The Junior High (1960-2000)
By Dr. Pelham Mead
ISBN: 2012919973
Retail price: $24.95 hard cover
About the author
Dr. Pelham Mead is a retired college professor who has worked in education for more than 43 years. After spending 31 years teaching public school in New York, he received his doctoral degree in education at Columbia University and began a career as a college professor and administrator. He is also a certified Webmaster and an expert in grant writing. He lives with his wife in El Cajon, California, where he still teaches instructional technology. The Junior High is his 3rd novel.
###