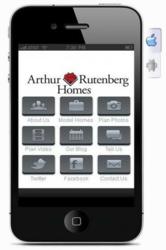 Arthur Rutenberg Homes app is available for download from the Apple App Store and Google Play Store
Clearwater, Fl (PRWEB) March 19, 2013
Arthur Rutenberg Homes has released a free mobile app with features to help both homebuyers and realtors. Search plans. Watch videos. Get directions to model homes. Contact Us. Home building just got a little easier and more convenient. Now, that the best parts of ARH are available on phone.
The Arthur Rutenberg Homes app is for Android and iPhone users. It is currently available for download from the Apple App Store and Google Play Store. Search "Arthur Rutenberg Homes".
About Arthur Rutenberg Homes
Arthur Rutenberg has been a respected name in Florida homebuilding since 1953, when he built his first home upon the four "cornerstones" that would make him legendary: design, craftsmanship, service and responsibility. Today, Arthur Rutenberg Homes, Inc. is one of the largest networks of independently owned and operated homebuilding companies in the nation, with franchised homebuilders throughout Florida, North Carolina and South Carolina. For further information, contact Gabriella Nelms at 727-536-5900.