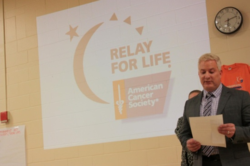 Digital Sales Manager Max Klemm presents a $1000 donation the American Cancer Society in person at a New England chapter event.
Portland, ME (PRWEB) March 16, 2013
As part of a recent company-wide sales contest, each of LocalEdge's 16 sales teams was challenged to "compete" for a charity of their choice, with their winnings to be donated to the charitable organization on behalf of the company. LocalEdge's New England team chose to donate to the American Cancer Society. For more than 65 years, ACS has worked to find answers that save lives and improve the quality of life of cancer patients. Today, two in every three people are diagnosed with cancer. LocalEdge is proud to support this worthy cause, in hopes of creating a world without cancer.
About LocalEdge:
LocalEdge is a premier multi-media company leading the transition to web-based advertising for any size business. The organization has been in business for over 40 years and services customers nationwide.
Through the development of proprietary technology and partnerships with major search engines, social network sites and other leading tech-focused companies, LocalEdge offers a full line of digital marketing products that help its customers and business partners reach and interact with today's consumer.
Through a single-sign-on customer dashboard, LocalEdge enables customers to access digital products and proof-of-performance reporting within Internet marketing campaigns. Management tools allow the customer to preview, update and customize content as well as review and monitor analytics.