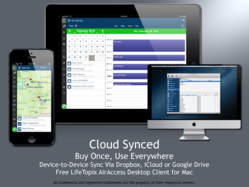 "With the 6.0 update, we have totally raised the bar on what users should expect from a complete productivity and life organization app in terms of choice, personalization, and power."
-Adi Mishra, CEO of LightArrow
Austin, Texas (PRWEB) March 15, 2013
LightArrow, Inc. announced the release of LifeTopix, Version 6.0, designed for iPad, iPhone, and iPod touch. Since 2010, LightArrow has been providing users with the most comprehensive app for managing all aspects of their lives and businesses. Major enhancements in the new LifeTopix update include Dropbox device-to-device sync; user configurable themes; redesigned handwritten notes and drawing; configurable dashboard navigation; a technology preview of Google Drive™ device-to-device sync; and an enhanced agenda view.
New LifeTopix App features include:

Dropbox Device-to-Device Sync. LifeTopix users can keep their data automatically in sync across all of their iOS devices via Dropbox sync.
Google Drive Device-to-Device Sync Technology Preview. LifeTopix users can preview syncing across their iOS devices via Google Drive sync. This technology preview sets the stage for future sync enhancements. Backup and restore are also supported with Google Drive.
User Configurable Themes. LifeTopix users can change the main and accent colors that LifeTopix displays throughout the app. Choices for primary and accent colors include Azure, Beige, Black, Charcoal, Classic Blue, Classic Green, Dark Blue, Dark Red, Deep Ocean, Forest Green, Gold, Hot Orange, Lime Green, Magenta, Mocha, Plum, Scarlet, Slate, and Violet.
Redesigned Handwritten Notes and Drawing. Writing and drawing is easier and provides a richer experience. Users can use pinch zoom and expand; undo and redo; and can email their drawings directly from the drawing view. It includes an eraser; 40 color choices; alpha capabilities; six shapes including circles and squares; and line width adjustment.
Configurable Dashboard. LifeTopix users can configure the order of Dashboard items including Home, Hot List, My Topics, My Calendar, Recent, Inboxes, My Contexts, Near Me, My Apps, Engage, Settings, and Help Center.
12 Topics View Facelift. The 12 Topics view (Tasks + Projects, Shopping, Events, Travel + Places, People + Services, Health + Activity, Finances, Home + Assets, Education, Notes + Files, Media, and Bookmarks) includes a new look. Varying topic colors enhance usability by helping users differentiate between the 12 life topics.
Simplified Agenda View. LifeTopix users can enjoy a streamlined Agenda view, which includes an Alerts section with overdue and undated items. In addition, users can open these items directly from this view.
New Collaboration Features. LifeTopix users have a central portal through the Engage view for finding help; contacting LightArrow; reading alerts; and sharing with friends, family, and colleagues.
Usability Improvements. Usability improvements are included throughout the LifeTopix app and iCloud sync includes increased reliability with continuing improvements planned in subsequent updates. Users will find improvements in calendar performance; the People + Services topic; recurring appointments; and in other areas.
"LifeTopix now has platform agnostic sync support with Dropbox, Google Drive, and iCloud," said Adi Mishra, CEO of LightArrow. "With the 6.0 update, we have totally raised the bar on what users should expect from a complete productivity and life organization app in terms of choice, personalization, and power."
LifeTopix 6.0 is available immediately from the Apple App Store as a free update for anyone with previous LifeTopix versions. For new users, LifeTopix 6.0 is available for a limited time at a special price of 99 cents. As a universal app, a single purchase entitles the buyer to use this top productivity app on their iPhone, iPad, and iPod touch.
Headquartered in Austin, Texas, LightArrow, Inc. (http://www.lightarrow.com) was founded in 2009 by a team of visionaries who have dedicated their professional careers to the challenge of leveraging state-of-the-art information technology to solve problems that matter to people. Their mission is to build intelligent, world-class software products that dramatically improve their customers' everyday lives. The company has extensive experience delivering quality solutions to some of the most sophisticated customers in the world and are very proud of their successful track record.
Copyright © 2013 LightArrow, Inc. All Rights Reserved. Apple, the Apple logo, iPhone, iPod and iPad are registered trademarks of Apple Inc. in the U.S. and/or other countries. Dropbox is a registered trademark of Dropbox, Inc. Google Drive is a registered trademark of Google, Inc. All other trademarks are the property of their respective owners.