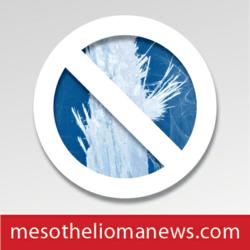 DALLAS (PRWEB) March 15, 2013
The most baffling obstacle to treating malignant mesothelioma and other asbestos lung diseases is stubbornness to early detection. In nearly all cases those diagnosed with pleural mesothelioma have little hope for successful prognosis because detection typically comes when the disease is greatly advanced. Early detection has so far eluded medical researchers because malignant mesothelioma cells "appear" harmless— the body's immune system does not interpret any danger until the disease is full-blown. Scientists across the globe are searching to find a method capable of accurately identifying mesothelioma in its infancy: if such a tool were discovered, the fog enveloping pleural mesothelioma would largely evaporate.
Enter the Electronic Nose, or 'CyraNose,' one stunning prospect. Australian researchers at the University of New South Wales have developed a non-invasive breathing test (similar to a breathalyzer) they assert literally sniffs out the difference between malignant mesothelioma and its absence, potentially in early stages. To date extensive experimental trials establish a very high rate of accuracy.
Associate Professor Deborah Yates, the study's team leader, recently discussed the Nose's evolution: "We were trying to develop something which is quick and easy for the patient and also which can be used in people who are elderly and quite unwell," she said. "[Because] it's very difficult for patients to go through a whole load of different tests and also to go through the time it takes to get results of those tests, not only physically but also psychologically." http://www.radioaustralia.net.au/international/radio/program/innovations/electronic-nose-sniffs-out-asbestos-cancer/1072218
The CyraNose contains a filter with 32 chemical sensors (polymers) programmed to change shape upon contact with breath fingerprints captured in a bag. A person breathes into the filter for a count of five minutes before blowing into the bag. Analysis of the breath sample instantly reveals a positive or negative mesothelioma diagnosis. Yates admits her team does not know specifically what compounds the CyraNose measures, but they do know it has so far proven to be easy, quick, and accurate.
The piercing question is whether early diagnosis of pleural mesothelioma is the only hurdle to leap. Yates believes early detection is paramount, but only one component of improved prognoses. "There is a lot of research now looking at the molecular basis, the underlying genetic and cellular changes in mesothelioma," she said. "[But] we have been able to distinguish between people who do not have any diseases and those who have so called benign asbestos diseases like pleura plaques, and malignant mesothelioma of the pleura," she said. ([http://www.asbestos-alert.com/news/news.php?id=66#sthash.lSFWCAHm.dpuf ).
More promising news: Patients suffering from pleural mesothelioma and other asbestos lung cancers have a defender in the Asbestos Disease Awareness Organization (ADAO), largest independent non-profit organization advocating for asbestos patients and an international ban on asbestos. ADAO, whose ninth international conference is scheduled March 22-24 in Washington, DC, is devoted to spreading awareness through education while demanding a global ban of the lethal carcinogen. Sixty countries have now outlawed asbestos, but the U.S. is not yet among them.
The national mesothelioma law firm of Baron and Budd, repeat platinum ADAO sponsor, joins in its mission to promote accelerated scientific research and a universal asbestos ban. For over 35 years, Baron and Budd's mesothelioma attorneys have fought to protect the rights of mesothelioma patients and put an end to negligent practices of asbestos companies. The firm was recently named for the third time to National Law Journal's 100 Top Verdicts list (2012) for a $48 million victory in California. (Bobbie Izell, et al. v. Union Carbide Corp., et al., Los Angeles County, Case No. 4674.).
For more on ADAO and to learn more about the ninth annual conference, visit
http://www.asbestosdiseaseawareness.org.
If someone you love has been diagnosed with mesothelioma, learn more about your options at http://www.mesotheliomanews.com, an independent online forum sponsored by Baron & Budd.