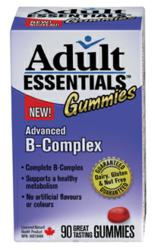 Taking B vitamins led to improved ratings of stress, mental health and vigor, and improved cognitive performance during intense mental processing.
Burlington, Ontario (PRWEB) March 19, 2013
These days Canadians are feeling the effects of stress, and not just because it's closing in on tax season. Studies show that more than 1 in 4 workers describe their day as extremely stressful. Adult Essentials gummy vitamins would like to remind Canadians to take their B vitamins to combat the ill effects of stress.
Financial stress, like that experienced around tax season, is one of the top stressors for Canadians over the age of 15, coming second to work in a study on the major sources of stress for Canadians. Other sources include time pressure, health concerns, family matters and relationship worries.
Stress is linked to several health concerns, including heart disease, stroke, high blood pressure, immune and circulatory complications. As well, stress can contribute to other unhealthy behaviors such as smoking, excessive consumption of alcohol and poor eating habits. Numerous studies link chronic stress to anxiety, depression, insomnia, and fatigue.
"Stress is something people tend to ignore, thinking it's just part of life. The problem is that stress has many negative health consequences," reminds Jackie McKenzie Registered Dietician and Consultant for Life Science Nutritionals. "The reality is that our stress is increasing thanks to the technology that allows our stressors to follow us everywhere."
New studies are attempting to quantify the benefits of vitamin supplementation on people dealing with stress. One study concluded that taking B-complex vitamins led to improved ratings of stress, mental health and vigor, and improved cognitive performance during intense mental processing.
Other studies on vitamins and stress approached the problem from the other side, attempting to find a connection between vitamin B deficiency and mood disorders, such as stress, anxiety or mild depression. One such study discovered a correlation between elevated homocysteine, a marker for vitamin B deficiency, and depressed mood and anxiety.
"In addition to eliminating stressors, people trying to manage their stress should ensure they get enough B vitamins or consider adding a daily B vitamin supplement," says McKenzie who suggests sticking with the Health Canada guidelines. "It's not enough to take your B vitamins when you feel bad. The key is taking them consistently as part of your everyday routine."
Health Canada recommends adults get 5 mg/day of vitamin B5, 1.3 mg/day of vitamin B6, 30 mg/day of vitamin B7, 400 ug/day of vitamin B9 (folate) and 2.4 mcg/day of vitamin B12.
About Adult Essentials Gummy Vitamins
Adult Essentials Advanced B-Complex vitamins contain a unique blend of B vitamins specially designed for adults. They support a healthy metabolism and help ensure your body generates the energy you need to meet the demands of your fast paced life.
They are uniquely designed in a great tasting easy to chew pectin based gummy and are guaranteed dairy, gluten and nut free. They contain no artificial sweeteners, flavours or colours. Adult Essentials Vitamin B-Complex Gummies are 100% approved and licensed by Health Canada. Quality you can trust and flavour you will love!