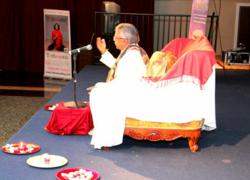 (PRWEB) March 18, 2013
In coordination with the Sringeri Community Center, Chamunda Swami Ji was honored to conduct a profound seminar on the power of meditation. Chamunda Swami ji shared his insight on how to harness spiritual blessings with the help of meditation. The seminar was held at the Sringeri Community Center on Saturday, March 9th at 5 PM.
The seminar was attended by hundreds of Chamunda Swami Ji's devotees. Swami Ji explained everyone the importance of right Karma & how a shift in our thoughts can transform our life.
As a modern day spiritual master and healer, Swami Ji's approach is to guide people with everyday life problems through the power of Mantra, Prayer, and Meditation. With astrology as a guiding tool, he employs mantra power in enacting a healing process that focuses on the divinity from within.
"Swami Ji's clear message on mantra and meditation was an eye opener for me and my family. We all look forward to welcome Swami Ji in upcoming months," said a devotee at the seminar.
Based in New York, The Chamunda Swami Ji Healing Center is a place of personal transcendence and growth. It is designed to provide additional insight into spiritual teachings, practices and understanding. The center also acts as a support venue for practical matters, including challenging life situations and circumstances. Swami Ji conducts world tours conducting spiritual seminars on Mantra and Spiritual Healing discourses, and provides opportunities for audience involvement. These seminars have successfully been carried out in diversified places such as Washington DC, New Jersey, California, Canada, Hong Kong, India, and Sweden.
Please feel free to join our social community on Facebook: http://www.facebook.com/chamundaswami