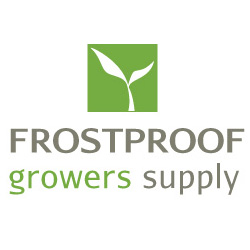 Tampa, FL (PRWEB) March 19, 2013
Tomorrow is the official start of spring and this means home gardeners and commercial growers will be eagerly anticipating the beginning of the growing season. Frostproof Growers Supply, one of the leading online suppliers of garden tools, nursery supplies, frost protection and gardening safety supplies, is ready for the rush with a brand new site re-design that makes it easier for gardeners, landscapers and horticulturists to find high quality, top brand name garden supply manufacturers. Since 1985, Frostproof Growers Supply has been the go-to source for the home gardeners and commercial growers who need top quality gardening products and low prices.
Frostproof Growers Supply has built its reputation on being a trusted supplier for both professional growers and garden hobbyists and now with a new, easy to navigate site they are expecting a significant increase in traffic and repeat visits. Carrying some of the most recognized brand names in the gardening and harvesting industries, including Bahco, Fiskars, Felco, Victorinox and Dramm, Frostproof Growers Supply features high quality garden tools and supplies that make gardening easier and more productive.
The spring season is when most commercial and amateur growers will start their gardening and Frostproof Growers Supply timed the launch of their site redesign to coincide with this annual event. Now visitors to the site will be able to easily find the tools and supplies they need including Dramm watering tools, DeWitt shade cloths and frost covers, FGS gardening gloves and a wide selection of pest control products. Whether you tend a small vegetable garden in your backyard or are responsible for acres of citrus groves, Frostproof Growers Supply has the tools and supplies you need to cultivate healthy and strong plants.
In addition to gardening and harvesting supplies, Frostproof Growers Supply also caters to the landscaping industry and offers great deals on many essential lawn care tools including shovels, rakes, hedge shears, lawn aerators, grass shears and root watering tools. Keeping lawns, gardens and shrubs in great shape takes hard work and with the tools and supplies available at Frostproof Growers Supply, landscapers and gardeners will find top brand name products at discount prices so they can stay within their budget and still get high quality lawn tools and garden supplies.
As their name implies, Frostproof Growers Supply is most known for their huge selection of shade cloths, frost protection covers and accessories. Early spring can be a chilly time of year and if you have plants and flowers that are at risk for frost browse the wide selection of high quality frost, plant and row covers that provide superior protection from light to moderate frost conditions. These handy frost covers can raise temperatures as much as 6-8 degrees while still allowing light, air and moisture to pass through.
Frostproof Growers Supply is a fourth-generation run family business located in Frostproof, Florida. In addition to providing the best garden tools and nursery supplies, the company also offers customer service to help shoppers find the right product for their specific growing needs. Frostproof Growers Supply was started in 1985 and since that time has become one of the most trusted names in the gardening industry.