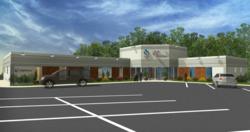 Peoria, IL (PRWEB) March 18, 2013
Peoria-based Family Medical announced today their relocation, moving into a beautiful, newly renovated 9,000+-square-foot space at 3641 N. Meadowbrook Rd. in Peoria. The building will be home to three additional businesses: The Plaid Daisy, Capital Preservation Specialists and the company's newest addition, Midnight Espresso. Family Medical is a home medical equipment company that specializes in sleep apnea equipment, mobility aids, lift chairs, bath safety and more. The company is a 40-yea- old, second-generation family business owned by Chris and Heather Monroe who also own the three other businesses as well as the building.
"Having been at our former location at the corner of Knoxville and Nebraska Ave. for 25 years, this move offers us the ability to expand our product lines, redesign our lifestyle enhancing showroom and house all of our companies under one roof for the first time. Our new building still allows us easy access to Interstate 74 and a central location in the heart of Peoria," states Heather Monroe.
Over $1 million was invested in the remodeling of the building which is located just south of War Memorial Dr., west of University St.
"The extensive remodeling that went into our new facility allows us to better serve all of our clients and provides us an opportunity to bring all of our companies under one roof," states Chris Monroe. " The Plaid Daisy, a women's boutique, focused on the needs of women with cancer; Capital Preservation Specialists, a financial firm providing financial direction to both personal and business clients and our newest venture, Midnight Espresso, exclusively serving locally brewed Thirty-Thirty Coffee, will all now share space with our flagship, Family Medical."
Family Medical, was founded in 1973 by Ed and Donna Monroe. The Plaid Daisy began operations in 2002. CPS was founded by Chris Monroe in 1999 and Midnight Espresso was officially opened in March 2013.