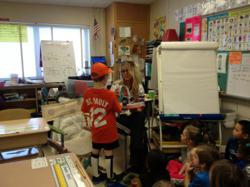 Rochester, NY (PRWEB) March 21, 2013
Rochester orthodontist helps more than 700 students learn how to rock their smile.
Every year bags full of toothbrushes, floss, toothpaste and instructional pamphlets pour out of Kaufman Orthodontics and into the hands of local Rochester elementary school students.
February, National Dental Health month is the ideal opportunity for Dr. Bradley Kaufman DDS and his team to take their message of good dental hygiene out of the office and directly to the schools. Kaufman's program doesn't only cover the basics of dental care such as brushing and flossing, but strives to help children begin to make the connection between good dental hygiene and overall health. Topics such as nutrition, mouthguard safety, and all aspects of children dentistry help students understand oral hygiene is more than just having clean teeth. In fact one student,exclaimed, "One thing I learned is that you should brush your gums because you can get gingivitis from not brushing your gums."
The outreach has consistently grown with Kaufman and his team educating more than 8,000 children, over the past 13 years. "Our program seems to get bigger each year and the response has been tremendous," states Dr. Kaufman. "This year alone we visited over 10 schools and over 700 children."
Initially geared towards 3rd and 4th graders, this year the program was specifically requested for 1st and 2nd grade classes as well. In an effort to get kids to continue to think about oral health and keep them engaged, every student is challenged to draw a poster with the theme 'What makes you smile?' The poster has been displayed at Kaufman Orthodontics and patients voted on their favorite. The winner is Canal View Elementary School !. For Kaufman Orthodontics, the program goes beyond education.