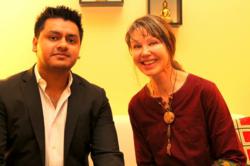 (PRWEB) March 15, 2013
In coordination with The Flying Yogi, Break The Norms Movement was honored to offer a workshop focused on mantra meditation in Toronto on Sunday, March 10th from 5:30pm to 7:30pm. The workshop provided a guided meditation technique to the attendees. The technique was designed to help in achieving one's highest potential of consciousness.
This workshop was conducted by Chandresh Bhardwaj, founder of Break The Norms Movement, a seventh generation spiritual guide and one of the youngest inspirational New Thought teachers of our time. Chandresh has designed result-oriented Sadhna programs for various educational and corporate institutions. Chandresh's approach is to find the answers from the Guru within rather than chasing the Gurus outside of us. Chandresh stayed after the workshop to answer questions of people who were eager to know about their personal mantra for spiritual and material success. Chandresh has been credit with a number of thought provoking talks on self growth globally.
In words of Lisa M, attendee of the workshop, "Toronto really needs such workshops happening more often. We are very thankful to Chandresh for being here to share his insight and wisdom. He's fresh and creative in his approach toward spirituality."
The "Break The Norms Movement" has actively been conducting workshops in various locations such as: USA, Belgium, Switzerland, Netherlands, France, Sweden, and Hong Kong to name a few. Break The Norms (BTN) is currently located in New York as well as in Los Angeles. The 'Break The Norms Movement' is an initiative to break taboos in spirituality and to bring a transparent picture of pure potentiality that's seeking manifestation in all of us. With sacred meditations and workshops, we aim to bring you road-maps to truth in a way that's amoral and independent in its soul.
Please feel free to join our social community on Facebook: https://www.facebook.com/breakthenorms and/or
Twitter: https://twitter.com/breakthenorms