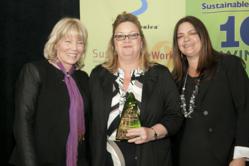 Santa Monica, CA (PRWEB) March 14, 2013
Two Main Street Santa Monica businesses - Santa Monica Convention & Visitors Bureau (SMCVB) and yogitoes - have each received the Sustainable Quality Award (SQA) from the Santa Monica Chamber of Commerce, the City of Santa Monica and Sustainable Works. Main Street is already known as Santa Monica's "Green Light District" for its high concentration of certified green businesses.
The SQA began in 1995 to recognize successful businesses in the Santa Monica area that incorporate sustainable practices into their operations. The award also aims to educate and encourage Santa Monica businesses to adopt sustainable practices in order to keep Santa Monica's "Green Light District" a model sustainable community for all residents and visitors – a model which both the Santa Monica Convention & Visitors Bureau and yogitoes are proud residents of.
"Tourism is a key component to a sustainable economy in Santa Monica and we are proud to represent a leading green destination," said SMCVB President and CEO Misti Kerns. "Currently, 70% of Santa Monica hotel visitors do not use a car while they are here and we will continue to invest in sustainable tourism initiatives that will contribute to the future prosperity of our city and its residents." She added: "The SQA Grand Prize award is a great honor for SMCVB and our employees."
Alex Ward, marketing and creative director of yogitoes, said, "We are so proud and honored to be recognized by the Santa Monica Chamber of Commerce and the Santa Monica City Council by being one of the recipients of the 2013 Sustainable Quality Award." According to Ward, "yogitoes mission is to create the highest quality yoga and fitness products, while giving our best effort to do business in a sustainable, mindful way that helps humanity and our planet. Environmental and human wellness are at the heart of everything we do... it is OUR yoga practice."
Thanks to resident businesses such as the SMCVB and yogitoes who remain unwaveringly committed to sustainable practices, Santa Monica's "Green Light District" remains stronger than ever and will continue to thrive for years to come in hopes of creating a responsible, prosperous city for future generations.
About Main Street Santa Monica:
Main Street Santa Monica is an eclectic collection of restaurants, boutiques, cafes, and various services stretching for about a mile from Pico south to the Santa Monica City limit. It is NOT the Mall. Historic, and Going Green, the street offers numerous unique shopping and dining experiences. Main Street is also popular for the weekly Farmer's Market every Sunday at Heritage Square, the annual Summer SOULstice, and the annual Holiday event featuring The Shopping Cart Tree. For more information visit http://www.mainstreetsm.com.
Media Contact: Kelley Coughlan, Melrose PR, Kelley(at)melrosepr(dot)com, (310) 450-7960, http://www.melrosepr.com