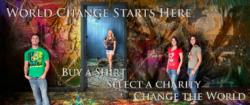 Our shirts are designed to help our customers express their passion, and to act as a conversation starter
Fort Worth, TX (PRWEB) March 18, 2013
Changing the world as an individual can be an overwhelming task to say the least, but changing the world as a society, or generation starts to become more realistic. That is exactly the message that PIF Apparel is sharing with their customers. The company sells t-shirts to help raise money for charity, allowing customers to decide which organization receives the funds. PIF is also teaching its customers how to make sure that their generosity will make a lasting impact by only promoting non-profits that have a high level of financial integrity.
The t-shirts available through PIF Apparel's website have gotten some great reviews by customers. All of the shirts feature inspirational designs that were thought up by PIF team members to represent the generation that the company hopes to reach (Generation Y and Millennials). Nearly all of the shirts are made of an extremely soft cotton/poly blend that is just as much about comfort as it is about style. The tees all have an athletic fit, and the line comes in a variety of colors and styles.
"Our shirts are designed to help our customers express their passion, and to act as a conversation starter." States PIF founder Matthew Moses. Wearing a PIF shirt gives the owner the opportunity to start a conversation about the things that they are passionate about changing. This includes this like eradicating AIDS for children in Africa, stopping human trafficking, supporting cancer research, environmental conservation just to name a few.
PIF's founder also went on to explain the details behind the company's mission to impact positive change by connecting the next generation of donors with the best run charities in the world.
Not only does PIF donate a portion of every sale to various charities based on the customer's selection during the checkout process, but they are also very careful in with which charities they choose to partner with. The PIF vetting process requires each of its partners to have an exceptional financial rating with Charity Navigator. The idea behind this requirement is to help teach customers to selectively give to organizations that are committed to using their resources for making a difference rather than growing their brand. Ultimately more resources to the cause means a faster impact on the end goal.
The shirts are sold exclusively on the web, but PIF Apparel can also be seen spreading positive messages through Facebook and Twitter as the promote the idea of Paying It Forward to motivate the next generation into action.