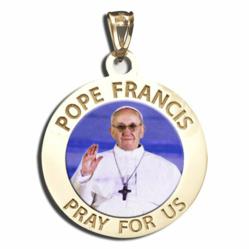 The Pope Francis Medal Collection was created as a token of esteem for His Holiness. It is an honor to have designed the new jewelry collection in the Pontiff's Honor.
Staten Island, New York (PRWEB) March 17, 2013
PicturesOnGold.com one of the largest online jewelry retailers of personalized jewelry, announced today that in celebration of the new Pope Francis - Argentine Cardinal Jorge Bergoglio, the 266th Pontiff-Elected March 3,13,2013 it has added a newly designed Pope Francis Medal Collection to its online jewelry website. The Pope Saint Francis Medals are available in Gold and Sterling Silver, and make a wonderful keepsake to honor His Holiness.
As stated by Daniel Schifter, President & CEO of PicturesonGold.com, "The Collection was created as a token of esteem for Pope Francis. As a Pope, and leader of the world's 1.2 billion Catholics, this is a significant event, and it is only fitting a commemorative medal was created to celebrate the occasion. This is such a special way for Pope Francis followers to mark the event. Finding a special piece of jewelry that captures this significant time in history with the election of the world's first South American Pontiff is important."
PicturesOnGold.com adds a protective jewelry enamel to each piece to ensure that each day it will look as beautiful as the day you took it out of the stunning black velvet gift box in which it arrives.
"Watching the throngs of people jammed into St. Peter's Square in Vatican City was magnificent. The roar of happiness from the crowd as Pope Francis came out on to the Balcony was an impassioned sound, a powerful endorsement for a new beginning on the eve of the observance of Easter," continued Mr. Shifter.
PicturesOnGold.com offers a wide range of Religious Jewelry for many Patron Saint Medals, and includes: Communion & Confirmation, Guardian Angel, Crosses, Rosary, Christ Heads, Bracelets, Saint Rings, and many other religious jewelry.
Daniel stated, "This is a joyous point in time when world Catholics are welcoming a new Pope Francis, who took the name in honor of St. Francis of Assisi, the Patron Saint of the Poor. It is an honor to have designed the new collection in the Pontiff's Honor.
For more information visit PicturesOnGold.com, and follow them Facebook, Twitter and Pinterest for the latest updates.
####
About PicturesOnGold.com:
PicturesOnGold.com™ has been manufacturing jewelry since 1998 for the jewelry industry throughout the world. 95% of the work is done directly in their factory. PicturesonGold.com is the only company in the world to laser-print full color, sepia, or black and white photos onto jewelry. A sentimental photo can now be downloaded and permanently imprinted on a 14k gold locket or sterling silver lockets. Initials and a message can also be engraved to further develop the personalized jewelry. The website was created in 2005 and has some unique products like Photo Engraved Jewelry, Lockets, Medical Id Jewelry, Custom Sports Jewelry, Religious Medals, Awareness Ribbons, Childhood Cancer Awareness Jewelry, Personalized Name Bands, Monogram Jewelry, and many other choices.
For additional information, log onto PicturesOnGold.com