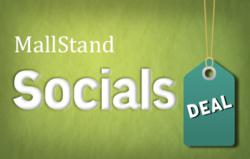 We are built around the community, for the community—and we like to give back
Hoboken, NJ (PRWEB) March 15, 2013
MallStand has announced the creation of a new program that will benefit the community and local businesses called "Social Deals for a Cause." By utilizing the Socials section of the website, MallStand will work with a local business to run a discounted social deal for a product or service. MallStand will then donate 100% of their commissions received from the social deal to a local charity.
"What really sets MallStand apart from other sites that offer discounts, apart from lower commission rates, is that we are built around the community, for the community—and we like to give back," said Andrew Jensen, MallStand's founder and CEO. "Our goal is to better the community, whether it's by offering ecommerce services to small local businesses or by promoting these charity co-sponsorships on our website. When the community grows, everybody profits."
In conjunction with MallStand's marketing efforts, the charity will be asked to assist by reaching out to their contacts to spread the word about the social deal. The creation of this program is part of MallStand's mission to be community-based and community-focused.
If you are interested in participating in Social Deals for a Cause as a business or a charity please visit http://www.mallstand.com/socials/charity/ or email scope(at)mallstand(dot)com.
About MallStand
MallStand is a web and mobile social shopping platform transforming traditional online shopping. By utilizing various social networking tools MallStand creates an environment that fosters communication between users and merchants. MallStand provides shoppers with a centralized online location to mingle, shop, and share.