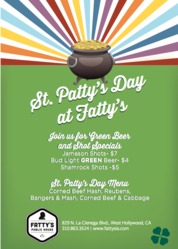 Los Angeles, CA (PRWEB) March 16, 2013
Gather up your shamrocks and bust out the rainbows! Broseph's Restaurant Group (BRG) is gearing up to celebrate St. Patrick's Day in style this March 17th, with specials on select menu items at its popular restaurants Brick+Mortar and Fatty's Public House.
With locations in both Santa Monica and San Diego, hotspot Brick+Mortar will be serving festive cocktails such as Jameson shots, green "shamrock" shots, green beer, and of course car bombs in keeping with the Irish tradition. The restaurant's famous Bloody Mary bar will also open for guests to create an extra unique, festive concoction of their own for the occasion.
Corned beef and other food specials will be available at the Santa Monica location as well, along with the regular Brick and Mortar delectable menu of tasty pizzas, appetizers, burgers, and much more. The celebration will run all day long, including multiple DJ's who will be mixing live from the party to keep guests entertained and lively for this joyous, green-filled occasion.
Fatty's Public House, located in West Hollywood, will be celebrating "St. Fatty's Day" with a festive menu of corned beef hash, reubens, bangers and mash, corned beef and cabbage, as well as a selection of Jameson shots, green "shamrock" shots and green beer.
At each restaurant, guests are encouraged to come wearing their favorite "green" outfits to ensure they don't get pinched. The lively music will be flowing, out of this world bites will be served, and festive "green" spirits will be in the air at Brick+Mortar and Fatty's Public House for St. Patrick's Day, the best party in town!
Brick+Mortar Santa Monica
2435 Main Street, Santa Monica, CA 90405
(310) 450-3434
http://www.brickandmortar-brg.com
Brick+Mortar San Diego
820 5th Avenue, San Diego, CA 92101
(619) 814-6375
http://www.brickandmortar-brg.com
Fatty's Public House
829 N. La Cienega Avenue, West Hollywood, CA 90069
(310) 854-0756
http://www.fattysla.com
About BRG:
Partners Justin Safier and Travis Lester formed Broseph's Restaurant Group (BRG) in July of 2010 out of a passion and love for the restaurant industry, as well as the belief in a need for more restaurants with outstanding culinary experience paired with exceptional atmosphere. By opening four restaurants in just two years (Bar Esquina in Cabo, Brick+Mortar in Santa Monica and San Diego, and now Fatty's Public House), BRG has established itself as THE restaurant group to watch, with multiple additions to their portfolio already in the works. http://www.brg-la.com
Media Contact: Kelley Coughlan, Melrose PR, Kelley(at)melrosepr(dot)com, (310) 450-7960, http://www.melrosepr.com