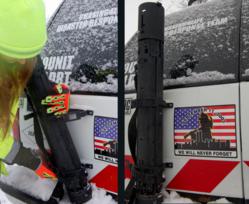 It is so great to not be fighting through the back of my truck for the first thing we always need!
Vista, CA (PRWEB) March 22, 2013
FoxFury Lighting Solutions announces the availability of a new clamp system that allows Nomad Area-Spot lights to mount to walls and vehicles. These clamps, along with the Nomad carrying bag, permit first responders and industrial professionals to easily store and retrieve the Nomad Prime and 360.
The FoxFury Nomad Series Area-Spot lights are combination area lights and spot lights that were unveiled in 2010. They've been used in a wide variety of applications by photographers, firefighters, law enforcement, disaster response teams and other safety professionals. FoxFury customers had been asking for a way to attach the Nomad more securely in a vehicle. Requests were also made to offer a wall mount so that the lights could be stored, ready for use.
This Nomad clamp system provides a safe and secure storage solution. Users have found, that properly mounted, these clamps enable the Nomad to function as a vehicle mounted light. Each set of two Nomad wall clamps secures the Nomad Prime or 360 lights to a wall or service vehicle (including ambulances and fire / SWAT trucks) via #10 bolts (not included). The Nomad can be removed or secured in under 20 seconds even if thick gloves are worn.
These clamps have proven to be a tremendous value to Chasing4Life (C4L) and their disaster response team (C4LDRT). The C4LDRT has responded to emergencies around the US including Joplin, MO and the northeast during Hurricane Sandy. Seconds count during their rescue and recovery work and they use the Nomad Prime as both an area light and spotlight as many of the places they're called to are either remote or experiencing power outages. The Nomad Prime is usually the first thing deployed on scene as it gives them the light needed to work throughout the night.
"It is so great to not be fighting through the back of my truck for the first thing we always need! The Nomad mounts make life a little easier," said Robin Whitted, Deployment Coordinator for the C4LDRT.
FoxFury has also released a carrying bag. This bag fits both the Nomad Prime and 360 lights and has compartments to fit the AC adapter and DC cable. The bag features a carrying handle and robust shoulder strap to increase comfort while carrying the Nomad lights to and from the job location.
About FoxFury:
FoxFury Lighting Solutions creates unique and cutting edge lighting products that reflect the needs of our customers, who demand quality and dependability. FoxFury is best known for its niche LED headlamps designed for specific markets including Fire, Industrial, Hazardous Area, Law Enforcement, Forensics and Recreational. FoxFury was formed in 2003 and operates out of Vista, CA USA. You can follow FoxFury on Twitter @foxfuryLED
About Chasing4Life:
Chasing4Life is an educational organization focused on educational tours, disaster preparedness, emergency management, disaster response and disaster research. Its team's members have responded to disasters around the world and it is our hope that they will continue to do so. Follow them on Twitter @chasing4life