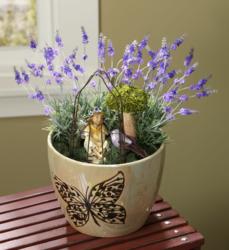 I love your great customer service! I brought a print in for framing today and got a great deal.
Rexburg, ID (PRWEB) March 15, 2013
Home décor is a new and fun way to distress and de-clutter; and many people have turned to creating indoor gardens as a form of stress-management.
Stress will definitely go down soon because spring floral items are all 40% off at Porter's.
Porter's Craft and Frame wants to help those who are beginning their indoor garden journey by providing many different craft and decoration ideas.
Start with a pot or a tub and design or create your indoor garden based on the container.
Using real or fake plants?
Creating a more natural look? or maybe a more crafty and designed look?
Going for rustic, natural colors? or bright colors and glitter?
Luckily, the fairy look and fairy figurines fit well with almost any indoor garden design. Fake mushrooms can be placed with the real and rustic looking gardens for a fairy home feel.
Fairy figurines can be placed with the more decorated, sparkly, and bright indoor gardens for a more fun and trendy indoor garden look.
Be sure to match pots, tubs, plants, figurines, and decorations with the rest of the room and the general look of the décor that surrounds them.
Porter's is a family owned business that has been around for years and now has two locations, Idaho Falls and Rexburg Idaho.
Porter's is a place where the genuine care, convenience, and comfort of customers is the highest mission and priority. The Porter's experience instills well being and exceeds the expectations of customers.
Porter's Craft and Frame has fairy figurines for only $5.00 and everything in the spring floral section is 40% off.