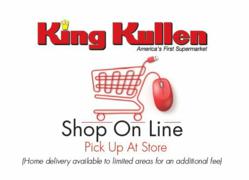 Bethpage, NY (PRWEB) March 15, 2013
King Kullen Grocery Co. has recently expanded to include more delivery zip codes following the success of its Shop OnLine service. King Kullen's Shop OnLine pilot program has been very well received in their brand new Island Park store.
King Kullen's online service is available for pickup or delivery seven days per week. With the recent expansion of their delivery zip codes, King Kullen is now delivering to Island Park and 14 nearby towns. Customers can place an order online and pick it up later at the King Kullen Island Park location. They can also have groceries delivered straight to home, fresh from the store.
Customers have already provided feedback about the convenience of food shopping from home without leaving the kitchen. Hundreds of orders have been placed in the two months since the Shop OnLine program launched, with the number growing every week.
A dedicated personal shopper will pick the very best for customers who order online – ensuring they get the best quality, freshest fruits, vegetable, meats, etc. King Kullen also has dedicated parking spots and a separate entrance for Shop OnLine at the store so customers can conveniently run in with no need to wait on lines.
About the company:
Headquartered in Bethpage, New York, King Kullen Grocery Co., Inc. is recognized by the Smithsonian Institution as American's first supermarket. Michael J. Cullen opened the doors to King Kullen in 1930. Today, three generations later, King Kullen is still family owned and operated. It remains a leader in the supermarket industry. From that very first store in 1930, King Kullen today operates 42 supermarkets and four Wild by Nature stores across Long Island. In addition to traditional grocery, King Kullen features a large catering and prepared foods department, freshly baked breads and sweets, and healthy and organic areas, with pharmacies in many stores as well.