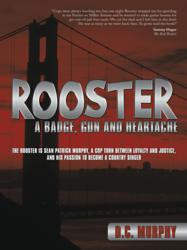 MILL VALLEY, Calif. (PRWEB) March 18, 2013
The 1970s was the era of rock and roll, according to DC Murphy, and he auspiciously was in the heart of some celebrity's home lives and lifestyles.
Murphy's first novel, Rooster, entails a story of a police officer's temptations to make illicit and detrimental choices in order to achieve his personal dream, to become a country singer.
"The book depicts a unique and unforgettable time in the history of Marin County and Mill Valley, and tells the story from the perspective of a police officer who was an eyewitness to the comings and goings of Mill Valley's famous inhabitants," said Murphy.
Murphy is a known and loved cop of the celebrities that lived in Mill Valley during the era of the 1970s.
"He (Murphy) was as crazy as we were back then," said Sammy Hagar, from The Red Rocker. "Ya gotta read the book!"
Rooster, which is Murphy's nickname, is loosely based on a true story comprising love, music, cops, drugs and celebrities.
For more information, visit: http://sfrooster.com.
Rooster: A Badge, Gun and Heartache
By DC Murphy
ISBN: 978-1-4817-0875-3
Retail price: $17.99
Available in paperback, hardcover and e-book.
About the author
DC Murphy was a San Francisco police officer for more than 35 years. He has established a soundtrack with five original country songs recorded by Rockabilly Hall of Fame, Rusty Evans. In addition to his law enforcement career, he is a writer, carpenter, pilot, moviemaker, artist, husband, father and grandfather.
###