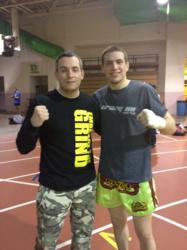 "Pat looked good this tournament. We look for to the progress that he will make moving forward."

- Kru Jason Farrell
(PRWEB) March 16, 2013
Patrick Rivera won the K-1 Novice division at the World Kickboxing Association Nationals, becoming the first to win the tournament from Crazy 88 Brazilian Jiu-Jitsu.
The World Kickboxing Association is one of the world's oldest and most recognized governing bodies for various forms of Kickboxing. In 2000, the organization formed the WKA USA to oversee Kickboxing competitions in the United States. Later in 2004, the WKA USA added Mixed Martial Arts, BJJ and No-Gi Grappling to the portfolio of combat sports that it regulates. The WKA Nationals is a tournament put on once a year that attracts some of the top amateur competitors from all over the United States.
Patrick Rivera competed and won the Novice K-1 division at the WKA Nationals becoming the first from Crazy 88 to win the prestigious tournament. The Novice division is comprised of competitors who possess less than three fights. Though Patrick has had experience in both Muay Thai and Mixed Martial Arts, this was his first time fighting under K-1 rules. The main difference between K-1 and Muay Thai is the areas of emphasis. In K-1 there is less of an emphasis on kicks, incorporating the strikes coming from all eight limbs. Whereas in Muay Thai, you are allowed to use all eight limbs with a particular focus on kicks and knees in regards to scoring and judging the fights.
On route to gold, Patrick had three fights where he displayed his striking improvements that he's been working on for the past year. Pat's first fight was against a highly aggressive opponent. Throughout the fight Pat was able to whether the storm and land great counter shots cruising to victory. His next two fights featured him coming out the aggressor and landing brutal combinations one after another. After landing several 8-counts in the second fight of the tournament he capped off the finals with a second round T.K.O and ultimately taking home the title.
Crazy 88 Muay Thai Kru Jason Farrell stated, "Pat looked good this tournament, he got more comfortable as the tournament went on and was able to land a lot of the things we've been working on in camp. We look forward to the progress that he will make moving forward from here."
For more updates and information on Crazy 88 Brazilian Jiu-Jitsu, visit the website at baltimoremixedmartialarts.com