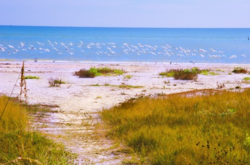 (PRWEB) March 16, 2013
Harry Hicks, owner of Sanibel Island Rental company, Sandpiper Beach Condominiums, is proud to announce the launch of his business' new website. The site changes became live on March 6, 2013 and feature an updated design that is more aesthetically pleasing and easier to navigate.
One of the first details that visitors will notice about the new site is that the entire design has been altered. Sandpiper Beach's website, which originally featured a sand colored palette, has now been completely transformed into a dynamic vista of seafoam greens and blues on the new site.
Users will also notice that browsing through the Sandpiper Beach gallery has become a much easier task with the new changes. Previously, visitors would click on a photo and it would open up in a separate browser window. With the installation of Slideshow Pro on the new site, visitors can click from one photo to the next in one window, without losing their place on the page.
In addition to these changes, Harry Hicks is also happy to introduce something new for the business' mobile visitors. By installing a mobile plugin, those who choose to visit the site through a cell phone will find that it has been stripped down to the basics. This makes the site easier to navigate and extremely user friendly. Instead of having to zoom in to read, all of the information will now be right there where you need it.
Sandpiper Beach Condominium is a private, secluded resort located on Sanibel Island, Florida, offering both summer and winter visitor a unique vacation experience. These rental units have been completely renovated within the past 4 years and include new kitchens, new bathrooms, new carpeting, new furniture and new tile.
Visit the new website today and check out all of the changes for yourself. Then contact Harry Hicks to book your Sanibel Island vacation at Sandpiper Beach Condominiums today.