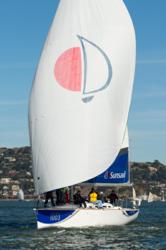 choose from what seems like endless sailing itineraries
Sausalito, CA (PRWEB) March 16, 2013
The Sunsail First 40 yachts based in Sausalito at the Sausalito Yacht Harbor now offer day charters and ASA sailing school courses. Enjoy being on Sunsail's beautiful new state-of-the-art yachts in remarkable San Francisco Bay for 4 hours to a full day.
"Discover San Francisco from an entirely new perspective. Being on the water offers great scenery and a great jumping-off point for all kinds of outdoor activities while exploring the Bay Area," says Cheryl Powell, COO, Sunsail "Choose from what seems like endless sailing itineraries including great stops for lunch or hiking or take your pursuit of sailing to an entirely new level and sign up for a casual, fun and informative sailing course."
Our newly accredited ASA sailing school offers multiple level sailing courses. Every year, the American Sailing Association, selects the top 20 schools out of their 330 schools worldwide, to receive the prestigious Outstanding School & Outstanding Instructor Awards 2012. Sunsail sailing school in the British Virgin Island was the recipient of this award last year, Sunsail continues this excellence throughout the business. "Our friendly, professional instructors are experienced sailors and tailor the courses to suit individual needs. All of our instructors are fully qualified and are carefully selected for their expertise and enthusiasm. Students will not only share their passion of sailing but they will develop the skills needed to sail on their own," says Travis Lund, Sunsail Base Manager.
Sunsail Sausalito Sailing Courses to Achieve Bareboat Certification
ASA 101 – Basic Keelboat
ASA 103 – Basic Coastal Cruising
ASA 104 – Bareboat Chartering
The San Francisco Bay area is rated as one of the world's top tourist destinations and is regarded as one of the world's most beautiful natural harbors. Here, you'll find consistent wind patterns, varying wind strengths and the ability to sail in enclosed waters, creating the perfect arena for superb sailing to meet many levels of experience. A sailing course with Sunsail is so much fun many students tell us they feel like they're on vacation. Aside from learning the basics, students take away fantastic memories of sailing amongst the remarkable Bay Area landscapes. Learn why it is said, "If you can sail on San Francisco Bay -- you can sail anywhere in the world."
Sunsail's base is also minutes away from the action during the the America's Cup activities starting July through September, 2013.
About Sunsail:
Sunsail offers a wide choice of sailing vacations with over 800 yachts in 30 locations worldwide. Alongside yacht charters and flotilla sailing vacations, Sunsail also offers charters, sailing schools, team building events and racing. Sunsail was founded in 1974. For more information on sailing vacations, find us on Facebook, visit sunsail.com or call Team Sunsail at 800.797.5907.