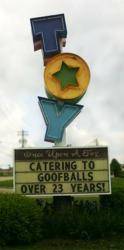 The support of this community has been explosive and I'm greatly moved that my colleagues at other Edwardsville retail stores are supporting my family and my business. - Shawnta' Ray, owner of Once Upon a Toy
Edwardsville, IL (PRWEB) March 15, 2013
Following the launch of a very successful viral contribution, locally owned businesses in Edwardsville, Illinois and the surrounding communities have pledged 10-35% of their daily sales to the "Save the Toy Store" campaign. "The support of this community has been explosive and I'm greatly moved that my colleagues at other Edwardsville retail stores are supporting my family and my business," says Shawnta' Ray, owner of Once Upon a Toy.
As of the time of this release, contributions were had just exceeded the $50,000 mark, leaving the campaign with $25,000 left until the goal is reached.Seeing the community's support to save the beloved toy story moved the owners of the local clothing store, What To Wear. "We understand that these times are tough for specialty retail stores; we share a lot of customers with Once Upon a Toy and were eager to support the efforts to save the toy store," says owner Sharon Juergens. "It's a community effort, and What To Wear is a part of this community, we were thrilled to embrace the effort and even more so now that so many other locally owned businesses have followed in our footsteps," said Juergens. The list of merchants participating is long, including What To Wear, To-Do's, Tot Spot, Chef's Shoppe, Studio 11 Salon, Bin 51, and Olive Oils & More. Restaurants doing the same include: Wang Gang and Papa Murphy's Pizza. All of these businesses are contributing 10-35% of their sales today, Thursday. On-line businesses are offering contributions also, such as: representatives from Thirty-One, Avon, and Mary Kay.
A complete list of participants can be found on the groups Facebook page, which has more than 4,000 members: https://www.facebook.com/groups/191671887623770/
Additionally, Avant Gardens Outdoor Living and Landscape Design, will provide $1,000 of free service to the largest Madison County donor of this campaign. It was on that page that Edwardsville resident, Steve Hartman, suggested the idea of collecting contributions to save the town's beloved toy store. Taking the lead on the "Save the Toy Store" contribution campaign, Emily Terry-Gates did research to determine the most effective way to host a fundraiser of this magnitude with lawful and successful results. Terry-Gates says, "I have great memories of shopping at Once Upon A Toy when I was young; I want the same memories for my three children." TerryGates and Ray are also long-time friends, "I have known Shawnta' since high school. She is the type of person that will help anyone in need. I just felt like I could do this for her and her family."
The campaign was launched using an on-line fundraising site, Crowdtilt. In less than 24 hours after the launch, more than $25,000 had been pledged toward the $75,000 goal. Residents of Edwardsville, IL (population 25,000) and friends of Once Upon A Toy have shown just how passionate they are about saving a toy store that has been a fixture of the community since 1987. "I am so touched when I see the list of donors. I recognize the names of customers, vendors, and friends. I get tears in my eyes when I see the names of my young customers, they must be donating their allowance," says Ray. The company also has a newly established store is Clayton, MO called LagoonaMagoo; residents of that community are contributing to the campaign as well. "It's a lofty goal, we realize that. And, a small community raising funds to rescue a toy store from bankruptcy is unprecedented. However, I believe we will reach our goal and hopefully exceed it.
The economy has taken its' toll on most households and businesses over the past few years; it is great to see people coming together to help save a business from the worst in this economic climate," says Terry-Gates.
For more information, or to contribute, please visit: https://www.crowdtilt.com/campaigns/save-the-toy-store
###