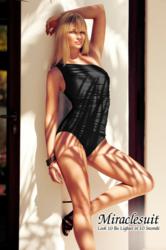 Miraclesuit is ranked the number one control brand in the market and is the originator of making women look 10 pounds lighter in 10 seconds™.
New York, NY (PRWEB) March 15, 2013
The month of March signals swimwear season upon us, a proven time of year that can be lonely, embarrassing or discouraging for many women. Trying on swimwear is everybody's dreaded activity but luckily for generations of women, one swimwear brand has achieved the seemly impossible task of making women feel more comfortable, confident and in control in their swimwear.
Miraclesuit is ranked the number one control brand in the market and is the originator of making women look 10 pounds lighter in 10 seconds™. As the most publicized brand in the world, Miraclesuit has established themselves as the most trusted resource for fashionable slimming swimwear and body shaping technology on the beach. Legions of loyal fans and glamorous beach-goers of every shape and size, with every variety of problem area to fix, hide or accentuate find solutions in the tried and tested brand.
According to consumer reports Miraclesuit passes the test, being one of the few brands in the market that lives up to its promise. Besides the positive review from Consumer Reports National Research Center, the company's innovative construction is rigorously tested by institutes such Good Housekeeping and fashion editors like Adam Glassman, Creative Director at O magazine. The Miraclesuit family also continues to win the favor of Forbes most influential celebrity and cultural icon Oprah.
Miraclesuit's success is in the fabric, a propriety blend of premium fibers containing three times the amount of Lycra than the market's traditional suit. The technology creates all-around full-bodied comfort control allowing Miraclesuit's design team to focus on fashion trends and flattering detailing. Early purchasing data predicts that warm colors, metallic detailing, peak-a-boo mesh inserts and new silhouettes for Miraclesuit will do well this year. One-piece styles are a growing trend in the industry overall, leading fashion-forward women to follow celebrity trends and shop Miraclesuit swimwear for a more modern and glamorous look.
Miraclesuit's lifelong mission to be the best manufacturer in the would is also built upon their desire to create confidence and community for women, a dedication to supporting the arts, and to discovering beauty at any age.
ABOUT MIRACLESUIT:
Miraclesuit is the first ever luxury swimwear collection that promises to make you look 10 lbs. lighter in 10 seconds™. Miraclesuit swimwear and Miraclesuit family brands can be found in most specialty and better department stores around the world as well as select online sites. For more information visit the Miraclesuit website http://www.miraclesuit.com or connect with them on Facebook, Twitter and Instagram.