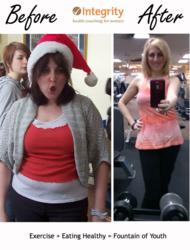 What got me to change was this one question, do I want to spend the rest of my life on these drugs?
Londonderry, New Hampshire (PRWEB) March 17, 2013
As we begin counting down the days to spring one thing always comes to mind, weight loss. Yes, feeling the warmer air and hearing the birds chirping their song of summer coming is always a reminder that we will soon be wearing less and exposing more.
Laurie Gouley, 42, health coach at Integrity Health Coaching for Women states; "Losing weight and getting fit isn't as hard as many people believe it is, they just need the right directions. My job is to provide our members with the precise directions to maintain and/or regain a vibrant healthy body."
Before Laurie became a health coach she joined Integrity Health Coaching for Women in Bedford, New Hampshire. Like many mothers she was caught up in chaotic family issues and believed that those things mattered more than her own health.
She shares; "After I joined Integrity I received the right plan made for me and within weeks I couldn't believe the difference. In fact, when I was over weight I never really knew to what extent. Now I look at pictures from just a few years ago and can't believe that person was really me."
At 38, Gouley was over weight, had chest pains, high blood pressure, high cholesterol, anxiety and was on a plethora of medications. She confesses; "What really got me to change besides not feeling good was this one question, Do I want to spend the rest of my life on these drugs? The answer was a resounding no, and that was my turning point."
Now just a few years later Laurie is the Executive Team Leader of Integrity's Health Coaching for Women in Londonderry, New Hampshire. Laurie coaches and inspires other women to follow her lead and utilizes the system that worked for her, Integrity's EZ Coach Fitness Prescription System to create individualized solutions for all of her clients.
She says; "Losing weight isn't about losing anything but finding your stronger self. The choices you make every day determine the quality of your life. I posted my picture on Facebook in hopes it will inspire others to put their health first. Now I can say for the first time I really love myself. Without your health, nothing else really matters, I've been there, I know!"
If you'd like to learn more about weight loss and how Laurie did it you can contact her at Integrity Health Coaching for Women at 603-421-2811. http://www.integrityfit.com