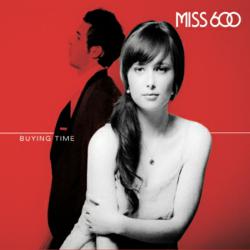 With flashy horns and exuberant guitar riffs, the single's tune is reminiscent of Golden Age jazz at its best
(PRWEB) March 15, 2013
In anticipation of the release of their debut album, UK-based pop/jazz duo Miss 600 has released the music video for its newest single, "Hello", following the success of their previous singles, "Twist" and "Typically Me". Published on singer Hannah Garner's Youtube channel, the playful video serves as the perfect accompaniment to the irresistibly catchy single.
The music video features Garner and David Amar, the other half of the duo, walking through a wonderfully cheesy backdrop of stripe bands and bright colors. Shot in black-and-white, the two musicians sharply juxtapose the video's colorful background. To capture the single's turn-of-centuryesque instrumentals, the video uses simple cinematography and rough cuts to transport listeners back to the classy, flamboyant Europe in the early 1900s.
Compared to their other work, "Twist" and "Typically Me", "Hello" has a faster, more upbeat rhythm. With flashy horns and exuberant guitar riffs, the single's tune is reminiscent of Golden Age jazz at its best. When Garner's confident, powerful vocals are added to the mix, "Hello" becomes a track representing pop jazz at its best. In response to both the single and the MV's popularity, BBC Radio 2 has just added "Hello" to their playlist.
After spending a busy year participating in various festivals, including the Cheltenham Jazz Festival, Miss 600 is about to release its debut album, "Buying Time". The album will showcase their blend of pop tunes and jazz flavors and features collaborations with film composer Ennio Morricone and songwriter Sam Beeton. The album dropped on February 25th.
Miss 600 consists of David Amar, a multi-instrumentalist, and singer Hannah Garner, who maintained a presence of Youtube since she was 17. The duo was soon discovered by Chris Bucknall and signed to Cubit Recordings.