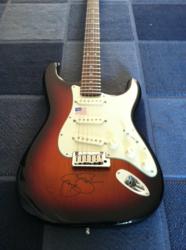 "...we are so grateful to all of the established artists who donate their time and money, year after year to help us fulfill our mission."
- Aric Steinberg, Director of Development
(PRWEB) March 16, 2013
Sweet Relief continues its yearly online auction campaign with contributions from big-time artists representing many different genres of music. Some of the featured auction packages include VIP passes to Coachella and Stagecoach Festivals, plus the opportunity to meet the performing artists at the show. Signed guitars are always popular items, and Sweet Relief always seems to have a few available; this month features autographed guitars from Social Distortion and the Stone Roses, and Sweet Relief promises more to come.
Aric Steinberg, Director of Development at Sweet Relief, said, "These auctions are a consistent and important source of fundraising for Sweet Relief, we are so grateful to all of the established artists who donate their time and money, year after year to help us fulfill our mission."
Money raised from this auction will benefit both the Musicians Cancer Fund @SweetRelief, which pays for chemotherapy, prescriptions, food and even rent for professional musicians suffering from cancer, and the struggling ill & disabled musicians residing in the Coachella Valley.
All items available for auction can be viewed here: Sweet Relief Auction