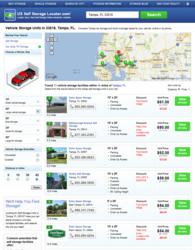 We are seeing an enormous increase in demand from consumers who are reserving online for a space to store their vehicles
North Miami Bech, FL (PRWEB) March 15, 2013
Self storage is much more than a cubicle, USSelfStorageLocator.com announces the ability to comparison shop for outside vehicle storage space.
Car storage, boat storage, motorcycle storage, trailer storage, and RV storage can be found online. Self storage facilities are not just for storing household goods or office supplies/documents anymore.
People are not always able to store vehicles outside their house, or who want put them in storage during the off season, can now find a storage space on USSelfStorageLocator.com. Search from over 5,000 self storage facilities nationwide. Use the filters located in the left side bar to determine the appropriate space that best fits the length of your vehicle. Whether the vehicle requires ten feet or forty feet in length, there are a variety of sizes offered. Some facilities offer covered storage spaces. Choose from uncovered or covered selection options to see if the facility near the zip code or city you are searching has this option.
Compare the size, the amenity and reserve it online or by phone. Reservations could be made for the same day or for up to forty 45 days in advance. Hold the unit. lock in the price and discounted special. During the off season vehicle storage becomes a hot commodity, so it is recommended to plan in advance to secure a storage space.
"We are seeing an enormous increase in demand from consumers who are reserving online for a space to store their vehicles," says Victor Dante, CEO.
Most facilities across the company are now offering outside storage space, others are exclusively catering to this customer.