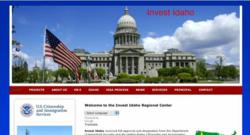 Riverside, CA (PRWEB) March 21, 2013
EB-5 Resource Center aids developers, investors and prospective regional centers to qualify for the EB-5 program. The center integrates the various components of EB-5, i.e.,immigration attorneys, SEC attorneys, economists, and business plan writers, into a one-stop shop, so to speak, to help navigate stakeholders through the complicated process. Casebolt says they have helped create 30 regional centers. Florida is second to California in the number of regional centers they have, however, Casebolt adds that many are inactive. The types of projects in Florida that are popular for EB-5 investors include assisted living facilities, and hotels.
Currently, EB-5 Resource Center is assisting the city of Miami in establishing its own regional center. Casebolt has some concerns with a city-created regional center, however, he is confident that Miami officials have done their due diligence and won't experience the fates of previous city-run regional centers like Victorville and El Monte.
The issues of fraud and tenant occupancy have been hot topics with the EB-5 community but Casebolt says fraud is often unintentional. "The 'fraud' word is a very strong word. There is fraud that does exist. But there's also a greed that gets in the way and stupidity as a mixture. What people will do in trying to stretch those [job creation] numbers and working with the economist [is], they keep stretching, stretching, stretching to hit the number that they want to hit, [that] they really need to hit."
Comparing the current EB-5 climate to that of the Gold Rush, Casebolt adds that with that with such a rush, you will get some dishonesty. He foresees in the next year the uncovering of more fraud and he hopes the involvement of the Securities Exchange Commission will help enforce the changes the EB-5 program needs.