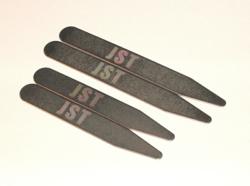 Springboro, OH (PRWEB) March 16, 2013
Collar Stay Shop this week announced that an extended line of collar stays in plastic, stainless steel and brass in multiple sizes is now available at the company website. New collar stay sizes include 2-inch, 2.5-inch and 3-inch. Collar Stay Shop also announced its new collar stay engraving service.
The Collar Stay Shop's website, http://www.collarstayshop.com/, was designed to bring businessmen a comprehensive line of the highest quality collar stays available on the market. Collar stays are offered in a variety of lengths and a range of materials, cleverly designed to help prevent collar stay loss at the cleaners.
About Collar Stays
No article of clothing says "confidence" and "success" quite as well as the clean lines of a pressed business shirt. From the glint of well-chosen cufflinks to the crisp lines of the collar, a dress shirt provides a showcase for highlighting the attention to details that is the hallmark of the confident professional. One of the first signs of wear on a dress shirt is a curled collar, and unfortunately, it's also one of the most noticeable. Luckily, there's a fix for that problem that's a lot simpler – and a lot less expensive – than buying a new shirt: Replacing – or adding – collar stays. Now thanks to the Collar Stay Shop's extended line of shirt collar stays, finding a collar stay that's right for your shirt is as easy as clicking a button.
Because of their thicker layers of material, collar ends do not respond to a simple pressing as well as the rest of a dress shirt. Even after a single cleaning, collar ends may begin to curl, marring the overall appearance of the wearer. It's true: No matter how expensive or well-tailored a suit may be, having a collar that's turned up on the ends can make the entire business ensemble appear cheap and ill-cared for.
About Collar Stay Shop
Unlike competitors, the Collar Stay Shop chooses every brand and type of stay for durability, convenience and value. They offer free first-class shipping on every order, and orders are shipped within one business day. For convenience, Collar Stay Shop accepts major credit cards and PayPal and answers customer emails and inquiries within 24 hours via email.
The Collar Stay Shop makes it easy to look your best. To learn more about the Collar Stay Shop, visit the company website at http://www.collarstayshop.com today. CollarStayShop.com is a 3dcart ecommerce website.