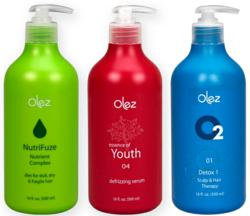 "We went to introduce innovative professional hair care products and the industry response was terrific." -Claudio Correia, President, Boca Cosmetics Group.
Boca Raton, Florida (PRWEB) March 15, 2013
Boca Cosmetics Group, manufacturers of the internationally acclaimed, professional hair care brand Olez, launched three new products at America's Beauty Show and the industry reception was explosive. "People flocked to our booth in droves to see, touch and smell our products," said Claudio Correia, President of Boca Cosmetics Group. "We went to introduce innovative professional hair care products and the industry response was terrific."
Word of mouth spread quickly during the three day event and attendees visited the Olez booth based upon the recommendation of their colleagues who experienced the products earlier in the show. "Stylists were so impressed, they couldn't make up their minds which products to try, so they purchased one of every treatment," said Correia.
As a direct result of the show, Olez reports that several distributors are interested in carrying the lines and one of Chicagoland's most upscale salon chains, Frank Gironda Salons will start offering Olez services very soon.
During the show, Olez's educator, Edward Teitel conducted two styling seminars that focused on the latest editorial styling techniques and demonstrated how the use of Olez treatments were integral to up-do's.
Another crowd pleaser at ABS was the Olez Mixology Lab. "Participants loved getting their hands on the products and were astonished by the foaming oxygen release of the O2, Oxygen Therapy treatment," said Correia.
O2 is Olez's unique oxygen therapy program that detoxifies the hair and scalp. When applied, oxygen is released and removes all impurities from the hair and scalp followed by an infusion of essential nutrients and emollients required for healthy and luxurious hair, resulting in brighter color and ease of styling.
"The audience was so impressed with the results of the Olez treatments. We had a waiting list of attendees who wanted to try it firsthand," Jeremy Lurie, Marketing Director said. "Everyone was in awe of the amount of build-up that came out of models hair during an O2 treatment and all of the hair models were ecstatic at the results," he added.
Olez's two other new products in addition to O2, Essence of Youth, andNutriFuze™ combine the most advanced technology with the finest natural ingredients found around the world resulting in healthy, shiny, revitalized hair.
NutriFuze™ is the perfect hair diet for fragile, dull and nutrient-deprived hair. NutriFuze contains a cocktail of powerful exotic ingredients blended to restore hair that is damaged from excessive blow-drying, color and lifestyle. According to Lurie, the hair care experts were very impressed with the scent of NutriFuze, and said it was, "good enough to eat."
In the same manner cosmetic procedures like BOTOX ® smooth wrinkles, Olez's Essence of Youth is formulated to smooth away imperfections in damaged hair. Essence of Youth promises to turn back the hair's clock by removing damage accrued over years of chemical processing, heat styling and natural elements. It contains active natural ingredients with restorative properties capable of repairing broken hair fibers, giving hair a youthful, smoother look, while restoring hair strength.
For more information, olez.com, email info(at)olez(dot)com or call 800-251-2479.
About Boca Cosmetics Group
Boca Cosmetics Group is a manufacturer of innovative, quality hair care products that combine natural ingredients with the latest technology, to deliver health and beauty.
Disclaimer: BOTOX ® is a registered trademark of Allergan, Inc. and is not affiliated with Boca Cosmetics Group or Olez in any way, shape or form.
# # #
Editorial Note: Samples and photos are available by request.
Jeremy Lurie (561) 431-1477, Boca Cosmetics Group
Terri Lynn (954) 677-1030, Superstars