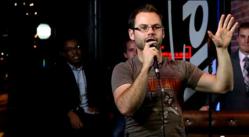 Cleveland comedians get on T.V. to tell the world that being funny is no joke
Cleveland, Ohio (PRWEB) March 15, 2013
Chicago, New York, Los Angeles. These are all reasonable places to think of when you think about comedy. Cleveland, Ohio? Cold, snow, river that catches fire, LeBron James dumping them in a very public forum. Cleveland has not really made its mark in the comedy world. However, Cleveland is pushing forward to make a name for itself on the comedic map. The creation of Laugh Staff gives a handful of Cleveland comedians the chance to flex their funny bones by writing funny best man speeches for clients across the country.
On Saturday, March 9, 2013, Laugh Staff founder, Josh Womack, made an appearance on Cleveland's Fox 8 for an interview with Elisa Amigo. In addition to talking about the company's impending opening this week, Womack detailed what makes a best man speech a little more humorous.
Fox 8 anchor Elisa Amigo asked Womack for an example how Laugh Staff can help jazz up a speech, Womack had this to say: "Julie's parents did a good job of raising her. She's grown into such a wonderful woman, but then you can add on to that and say something like, "Julie and Scott are a great couple. Julie was brought up well by her parents and speaking of her parents, they have done a fantastic job of pretending they like Scott for all these years."
Womack, started Laugh Staff in the summer of 2012 in Cleveland. With the emerging talent of comedians, improvisers, sketch comics and humor writers in Cleveland, Womack had little difficulty finding creative, funny talent.
Cleveland may be the butt of many jokes, but that only means Clevelanders are terrific at two things: taking a joke and making a joke. Clevelanders are excellent at rolling with the punches and poking fun at themselves.
So while Cleveland might have lost LeBron James (and they still might be reeling from it like a sad, teenage girl), Cleveland is spawning fresh, young comedic talent and if you stop poking fun at Cleveland long enough (which by the way, only Clevelanders are allowed to pick on Clevelanders), one of the very hilarious Laugh Staff coaches would love to share the funny and help you with your best man speech. That's just Midwestern politeness at its finest.
Laugh Staff provides speech-writing services to friends and family of the bride and groom. They assist best men and maid of honors in speech editing, speech writing, and training on speech delivery. Recognizing the importance of the big day, best men and maid of honors work with comedians to ensure their speech is memorable.