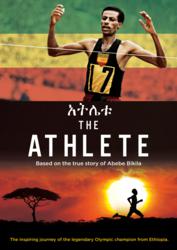 The story of Abebe Bikila impels one to achieve greatness. His true champion spirit is one that each of us can learn from.
Los Angeles, CA (PRWEB) March 15, 2013
Grand Entertainment Group, a newly founded independent multi-platform content and distribution company based in Los Angeles, is excited to announce the DVD release of the docudrama, The Athlete, directed by Davey Frankel and Rasselas Lakew, starring Dag Malmberg (Love and Happiness) and Ruta Gedmintas (Showtime's The Borgias, NBC's Do No Harm).
The Athlete is a portrait of the legendary Ethiopian marathoner Abebe Bikila. In 1960 Bikila participated in the Summer Olympics, Games of the XVII Olympiad, in Rome; a complete unknown, this barefooted Ethiopian stunned the world by winning the gold medal in the marathon. Overnight, Abebe Bikila became a sports legend, and hero to not only his country, but to the nation of Africa. Bikila was the first African to win a gold medal, as well as the first person in history to win consecutive Olympic gold medals in the marathon; a task which he achieved at the 1964 Olympic Games in Tokyo. This soldier and quiet son of a shepherd would be acknowledged by many as the greatest long distance runner the world had ever known.
Soon after, this legendary man who defied all odds was involved in a tragic car accident, leaving him a paraplegic. Unable to walk, and faced with the greatest challenge of his life, Bikila struggled to maintain his will to live, yet in the process discovered a deeper meaning of "competition;" taking up archery for the Paralympics, and competing as a handicapped dog sledder in Norway. Though his running career had come to a tragic end, the race of his life had a new beginning. With a mixture of fiction and stock footage, The Athlete is more than just the story of Abebe Bikila's epic quest for life and sport; it is a story of hope, inspiration and determination. Not since Raging Bull has the life of an athlete been rendered with such emotional power and cinematic grace.
Along with DVD release of The Athlete, Grand Entertainment and Film Festival Flix's Films for Philanthropy program have teamed up with UltraMarathon Man, Dean Karnazes' children's fitness foundation, Karno Kids, as promotional partners.The non-profit organization is dedicated to supporting, encouraging, and motivating youth to get outside and become physically active, and to restore and preserve the environment for their ongoing use and enjoyment. Grand Entertainment Group, in partnership with Film Festival Flix's Films for Philanthropy program, selected Karno Kids for their dedication to inspire children to get up and be physically active. "The story of Abebe Bikila impels one to achieve greatness. His true champion spirit, despite adversity, is one that each of us can learn from," states President/CEO of Grand Entertainment David Rand. "Partnering The Athlete with Karno Kids seemed like a natural fit." states J.T. Service, Karno Kid's Executive Director "The Karno Kids Foundation is honored to be a promotional partner of The Athlete. The inspiration that Abebe Bikila brought to the world is the same form of fire that we try to instill into our young people around health and wellness."
The DVD will be available from Grand Entertainment Group on March 19th and will be available at most major retailers for $19.98, and is available at Amazon.com. To view the trailer visit The Athlete Trailer.
Title: "THE ATHLETE"
Street Date: March 19, 2013
SRP: $ 19.98
SKU: GEG129
Run Time: 93 minutes
UPC: 852251004180
Territory: U.S. and Canada--Region 1
The Athlete is available at most major retailers and on Amazon.com along with GEG's latest releases A Secret Promise, The Selling, The Holy Land of Tyrol, Face to Face, Under the Scares, Sick Boy, She Wants Me starring Charlie Sheen and Hilary Duff, Ready or Not, Neverlost, Rewind and Zyzzyx Road.
For more information on these releases and other Grand Entertainment Group DVDs can be found online at http://www.GrandEntertainmentGroup.com
About the Karno Kids:
The Karno Kids Foundation was founded by endurance running star Dean Karnazes in 2006. Since then Dean and the Karno Kids Foundation has raised over a million dollars for youth health and wellness. Today the foundation utilizes a continuous grant program to fund charities across the country that successfully gets kids outdoors and moving. Those interested in donating to the foundation or even applying for a grant are encouraged to visit http://www.karnokids.org To see Karno Kids in action check out the Karno Kids Races – The North Face Endurance Challenge Series.
About Us:
Grand Entertainment Group (GEG), launched in early 2012, as a complete destination for programming. With the ability to distribute DVD, digital, streaming, television and limited theatricals, Grand Entertainment gives filmmakers and their films the platform they deserve. Grand Entertainment Group is a subsidiary of Grand Distribution Group that encompasses production and distribution for diversified products, services, and technologies. With a line-up of films slated through 2013, GEG is moving forward in a "Grand Way." Find us on Facebook at Facebook.com/GEGLLC and on Twitter @GEGLLC.