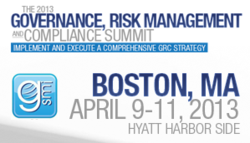 On April 9th, Eline will discuss the reality of general ledger risk and how it can lead to financial statement error
Boston, MA (PRWEB) March 15, 2013
The GRC Summit is excited to announce Eline Nelson, CPA, CFE, Certified Internal Auditor & Senior Auditor at World Vision will lead a pre-summit workshop on "Risk in the General Ledger and Financial Statement Fraud." in Boston this April 9-11th.
On April 9th, Eline will discuss the reality of general ledger risk and how it can lead to financial statement error. This workshop will be an interactive session with the objectives of exploring and answering key questions including:

What can go wrong as a result of general ledger risk?
How do you assess the risk?
How do you establish a risk tolerance?
What can be done to manage the risk?
Eline will discuss several case studies involving general ledger risk that led to financial statement error and financial statement fraud, including Enron, WorldCom, Global Crossing, Adelphia and more. This workshop is intended for anyone involved in preparing, reviewing, authorizing and reading financial statements.
Eline is a Senior Internal Auditor at World Vision and has certifications as a CPA, Certified Internal Auditor and Certified Fraud Examiner. She has a passion for helping nonprofit organizations succeed at accomplishing their mission through establishing clear objectives, identifying key processes and risks, and implementing sound internal controls. Prior to joining World Vision, Eline worked in public accounting at Ernst and Young LLP and Clark Nuber P.S. focusing most of her time with non-profit clients.
In its 5th year, GRC Boston offers 4 distinct session tracks: (1) Financial Risk & Compliance, (2) IT GRC, Privacy & Security, (3) Compliance & Ethics and (4) Enterprise Risk Management.
The Summit will be held at the Hyatt Harborside Hotel, in Boston, MA on April 9-11, 2013. For more information please visit http://www.thegrcsummit.com. Group discounts are available. Space is limited for the pre-summit workshops - register today to reserve your spot.
About Global Strategic Management Institute:
GSMI is a leader in the industry of executive education, creating conferences, summits, workshops and training sessions that combine rich learning environments with the opportunity to network with today's most relevant thought leaders, speakers and practitioners. GSMI's annual events have reached 70% of the Fortune 500 companies, in over 30 countries, covering topics that today's leaders find most challenging and inspiring. More information about Global Strategic Management Institute's upcoming educational events for professionals, visit: http://www.gsmiweb.com.
#GRCSummit
Follow us: @GSMIonline
1-888-409-4418