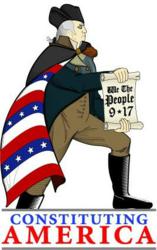 Beverly Hills, CA (PRWEB) March 14, 2013
To support the expansion of Constituting America's 'We The People 9.17' Contest, American House Senior Living Communities is providing a $10,000 contribution to support and sponsor the new Senior Citizen Essay Contest.
For the past three years, Constituting America has invited students Kindergarten through college, law and graduate school to enter their We The People 9.17 Contest. Wining students in each category are awarded scholarships and prizes for creating original songs short films, public service announcements, poetry, essays, artwork or speeches addressing a variety of topics related to the U.S. Constitution. Contest winners also receive a trip to Philadelphia and national exposure as "future leaders."
This year Constituting America has expanded the contest to include this new category. Senior citizens are asked to write an essay sharing their thoughts and feelings based upon a quote from President Ronald Reagan:
"Freedom is never more than one generation away from extinction. We didn't pass it to our children in the bloodstream. It must be fought for, protected, and handed on for them to do the same, or one day we will spend our sunset years telling our children and our children's children what it was once like in the United States when men were free."
Ronald Reagan, Encroaching Control (The Peril of Ever-Expanding Government) Speaking at the annual meeting of the Phoenix (Arizona) Chamber, March 30, 1961
Constituting America is a non-profit foundation whose mission is to utilize the culture and multi-media outreach such as music, film, internet, and social media to reach, educate and inform America's adults and students about the importance of the U.S. Constitution and the foundation it sets forth regarding our freedoms and rights.
"Supporting an amazing campaign like the 'We The People 9.17' Essay Contest for Seniors is an important reminder of the precious contributions that seniors have made and will continue to make to our country," said Bob Gillette, Founder of American House Senior Living Communities. "American House encourages our residents to express and share their love for our great country. We're delighted to be involved with a creative, energetic organization that promotes patriotism to all, from children to our adult population."
Actress, radio host and political activist Janine Turner founded Constituting America with Co-Chairman Cathy Gillespie on Presidents' Day 2010 with the goal of using today's technology to provide everyday citizens an opportunity to learn about the Constitution.
"Involving multiple generations is something I have always wanted Constituting America to do,'" said Turner, Founder of Constituting America. "By incorporating our seniors into this year's contest we can ensure that their unique appreciation for the United States Constitution and our country's founding principles is passed on to future generations. We as a nation have so much to learn from those in the generations that precede us. We are indebted to our seniors and all they have given us, and this is a small gesture of appreciation and remembrance for all they have done."
The winning senior essayist and a companion will be invited to attend the 2013 Constitution Day Weekend Celebration in Philadelphia in September and will receive national exposure in media interviews and on the Constituting America website. All eligible essays must be no longer than 850 words, typed or handwritten and all mailed entries must be postmarked by July 5, 2013. All entry submissions must be accompanied by the entry form. For a complete set of rules, guidelines and other information visit constitutingamerica.org for details.
About Constituting America:
A non-profit foundation, Constituting America was founded in 2010 with an ambitious mission: to utilize the culture and multi-media outreach such as music, film, internet and social media to reach, educate and inform Americans about the importance of the U.S. Constitution and the foundation it sets forth regarding our freedoms and rights. Constituting America's multi-tiered approach features a contest for kids, academic forums with Constitutional Scholars, Patriot Clubs and National Youth Director and author of "Our Constitution Rocks," Juliette Turner who also writes her own blog for the website. Constituting America is the only organization that utilizes the arts and culture to inspire adults and students to learn about the U.S. Constitution. Founded by acclaimed actress and radio show host Janine Turner (Northern Exposure, Friday Night Lights) and co-chaired by grassroots organizer Cathy Gillespie, this innovative non-partisan, non-profit campaign offers teachers, students and citizens a wide of variety of resources for learning more about America's founding principles. For more information visit constitutingamerica.org.
About American House Senior Living Communities:
Founded over 30 years ago, American House Senior Living Communities provides the most rewarding life experiences for each and every resident. The company offers maintenance-free apartment and villa living, restaurant-style dining, activities, education, wellness, transportation, housekeeping, and third party medical and personal care services. By combining the independence seniors and their families want with the assistance they may need, American House has helped thousands transition into the next phase of their lives with ease. For more information, please visit http://www.americanhouse.com or call (248) 203-1800.
Media contact:
Alfred Hopton
Levine Communications Office
310.300.0950 x316
ahopton(at)lcoonline(dot)com