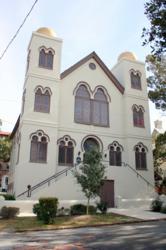 Wilmington, N.C. (PRWEB) March 22, 2013
Historic Wilmington Foundation announced ten historic sites on the 2013 Azalea Festival Tour, Saturday, April 13th from 1-6 p.m. and Sunday, April 14th from 1-5 p.m. This year's tour includes the Temple of Israel, located at 1 South Fourth Street.
As North Carolina's oldest synagogue, Temple of Israel is one of the few in the country still housed in its original nineteenth century building. The architect of this Moorish Revival style synagogue was Samuel Sloan of Philadelphia, with James Walker serving as the supervising architect. It was built in 1875 by Cape Fear Building Company for the German Jewish Reform Congregation that was organized in 1872.
This year's tour is a reflection of the variety of architectural styles of homes and religious buildings in four of Historic Wilmington's National Register Districts. From the charming Carolina Cottage to the UNCW Chancellor's mansion, the tour showcases the breadth of home styles in Wilmington's history.
All proceeds from the Home Tour will advance Historic Wilmington Foundation's efforts to protect and preserve the irreplaceable historic resources of Wilmington and the Lower Cape Fear region. Since 1966, the foundation has successfully saved more than 100 historic properties from demolition.
2013 Home Tour Sites: ($30 tour tickets available at all locations on tour dates)
Alexander Sprunt House, built 1929-1930, 1615 Chestnut Street
Emerson-Kenan Mansion, built 1907, 1705 Market Street
Freeman-Peters House, built 1912, 1805 Perry Avenue
Triyonis House, c. 1922, 2010 Creecy Avenue
J. E. Gilliard House, built 1914, 2009 Wrightsville Avenue
Temple of Israel, NC's Oldest Synagogue, built 1875, 1 South 4th Street
William A. French House, c. 1871, 107 South 4th Street
Donald MacRae House, built 1901, 25 South 3rd Street
Cumming-Duls House, built 1871,120 Nun Street
J.W. Brooks Building, built 1920, 18 South Water Street, Suite 10
Tickets can be purchased on tour dates at all locations for $30. Historic Wilmington Foundation members can purchase tickets for $15.
Advance tickets are available for $25 at these locations:
Azalea Festival Office, 5725 Oleander Drive
Historic Wilmington Foundation office at 2011 Market Street
Wilmington area Harris Teeter stores starting March 20th ($2 off with a VIC card)
The Sterling House, The Ivy Cottage, The Fisherman's Wife, The Transplanted Garden and A Proper Garden, all in Wilmington
Media Advisory:
Mayor Bill Saffo, New Hanover County Commissioner Chairman Woody White, County Commissioner Vice-Chair Beth Dawson, NC State House Representative Susi Hamilton and City Councilman Kevin O'Grady will officially open the tour during a ribbon-cutting ceremony on Saturday, April 13th, 2011 at 12:30 p.m. at TJ and Judy Porter's Home, the Alexander Sprunt House, 1615 Chestnut Street.
For information, contact:
George W. Edwards, Executive Director
edwards(at)historicwilmington(dot)org
Laura Trivett, Marketing Director
trivett(at)historicwilmington(dot)org
Historic Wilmington Foundation
http://www.historicwilmington.org
phone: 910-762-2511