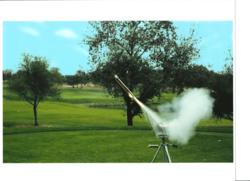 Rocketry Golf, the Shot Heard Around the World
Auburn, Ca. (PRWEB) March 16, 2013
Shawn Kelly, golf pro, has bravely taken up the Challenge of Regular Golf vs. Rocketry Golf. http://www.rocketrygolf.com. Shawn has over 40 years of golf experience and has played in golf tournaments in many countries. Doug Frost, the inventor of Rocketry Golf, has built and flown Rockets since 1957. He has won over a dozen awards at 15 national rocket contests. Now he and his new game will be put to the test. Rocketry Golf test flights have a range from 30 feet to over 600 yards. See a four minute clip on You Tube at: rocketrygolf.mov.
Last October, Doug flew three flights onto the Green at 433 yards, at The Ridge Golf Course. The average landing distance was 23 feet from the flag. That was when Shawn Kelly decided to take up the challenge. Doug was not ready then as he needed more practice flights. Since then, Doug has flown 38 more test flights over an open field at a secret location. Now he has 13 charts that cover a range of 30 feet to over 600 yards. A total of 143 flights have been made. The charts are accurate to 1/2 degree between 45 and 65 degree launch angles.
Doug's rockets are his own designs and they spin clockwise all the way to the green.
When they reach about fifty feet above the green they eject orange plastic streamers and land gently, so they can be flown later. They use Estes and Aerotech rocket engines from the hobby stores. These commercial engines plus Doug's designs provide the extreme accuracy of this Rocket game. A special Launch Pad is also Doug's invention and it is the most accurate launcher in the sport of Rocketry. Over 3 million Americans fly model rockets per year.
Rocketry golf tournaments with prize money will be scheduled soon. Check the website http://www.rocketrygolf.com.
This contest with Shawn Kelly will hopefully send out, "A Shot Heard Around The World"!