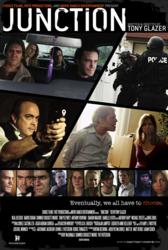 Los Angeles, CA (PRWEB) March 19, 2013
The spirit of independent cinema is soaring with the NewFilmmakers LA Film Festival March 23rd 2013 program. The event brings Groundlings alumni, award-winning filmmakers, Oscar nominated actors, first time filmmakers, and more all under one roof.
In support of International Women's History Month, a documentary film shines light on an all-women moped crew in Los Angeles. A program of short films includes recent USC graduates, sketch comedy veterans, films shot on the RED Epic 5k, the next generation of talented child actors, and an international film from the UK. An award-winning, star-studded feature film rounds out the NewFilmmakers evening.
A red carpet Cinema Lounge and after party at the LA Film Fest offer an opportunity for attendees to mingle and speak about the creative process with the films directors, casts, and crew alongside fellow film buffs and cinema enthusiasts.
The March 23rd 2013 schedule includes:
Junction (Tony Glazer / USA) - In the idyllic upscale neighborhood of Verterra Hill, a privatized community full of manicured lawns and sprawling colonials, four strangers make a choice that sets in motion a series of events that will change their lives, the lives of some not-so-innocent homeowners, and a troubled police force forever. On a road full of twists and turns each group will be forced to make a decision that will send them all careening headlong into a deadly confrontation. In a place where nothing is what it seems and no one is who they appear to be, only one thing is certain: all choices come with a price.
Tony Glazer's theatrical plays have been performed in Los Angeles, New York, Chicago, the United Kingdom, and Canada. His play, In the Daylight, premiered Off-Broadway in 2009. The Substance of Bliss, his latest play, won the L. Arnold Weissberger Award at the Williamstown Theatre Festival. Junction marks his feature film directorial debut.
Junction's all-star cast includes David Zayas (Dexter, The Expendables), Michael O'Keefe (Caddyshack, Michael Clayton), Anthony Rapp (RENT, A Beautiful Mind), Anthony Ruivivar (Southland, Tropic Thunder), Neal Bledsoe (Smash, Revolutionary Road), and Tom Pelphrey (Guiding Light).
Thirty*ish* (Deena Adar & Kai Collins / USA) - Thirty*ish* is a comedy about three best friends from high school who realize their lives and wives aren't at all what they thought they'd be. When Sam, the man child, Dom, the alpha male, and Trevor, the uptight neurosurgeon, get together to celebrate Trevor's bachelor party, they discover that contrary to what they've believed, their friends' relationships are almost as crappy as their own.
Writer/Film Director Deena Adar has trained and performed at The Groundlings, and Improv Olympic, and performed at The Comedy Store and The Improv alongside headliners including Drew Carey. She graduated from UC Berkeley with a degree in Political Science. San Diego native Kai Collins trained at The Groundlings in Los Angeles. As a freelance writer, her work has appeared on The Huffington Post, The Wall Street Journal, The Financial Times, CafeMom, and many more. A graduate of Williams College in the Berkshires, Collins majored in Theatre and Psychology.
Thirty*ish* stars Bre Blair (Last Vegas, Make It or Break It), Tyler Brooks (The Longer Day of Happiness), Sara Fletcher (Hansel & Gretel, Secret Girlfriend), Rochelle Greenwood (NCIS, Freeloaders), Daniel Kash (Grey's Anatomy), and Joe Rowley (Modern Family).
Art Galleries and Back Alleys (Carlos Carrasco / USA) - The artistic process is chronicled as two Chicano visual artists representing two different generations of an art movement collaborate in the transformation of a hybrid vehicle into a piece of art. The project was sponsored and housed at Self-Help Graphics, an East Los Angeles community-based artists' cooperative with a 40 year history of fostering, training and housing visual artists from multiple disciplines while mentoring youth from the community.
Panama native Carlos Carrasco established himself as an actor by appearing in films including 2013's Parker (starring Jason Statham and Jennifer Lopez), Speed, and Confessions of a Dangerous Mind. He's appeared on television in Parks and Recreation, Star Trek: Deep Space Nine, and Star Trek: Voyager. As a stage actor, he made his Broadway debut in Circle-in-the-Square's production of "The National Health".
Carrasco has served as Executive Director of the Hispanic Organization of Latin Actors in New York, co-director of the JACK Arts Ensemble, and a panelist for the New York State Council on the Arts.
The Art of Boxing (Andrew Flakelar / USA) - Seen through the eyes of a grassroots professional fighter from the Bronx, The Art of Boxing takes a cinematic view of the complexity and poetry of boxing, elevating the drama, determination, and struggles of this passionate boxer.
The Gaskettes (Jason House / USA) - The Gaskettes are an all-woman moped crew out of Los Angeles who love mopeds, gold jackets, and whiskey. This short documentary film follows them as they plan for their first official Valentines-themed moped ride.
No Playground for Little Cowboys (Carl Rock / UK) - After a locker room robbery, rookie cowboy Louis decides to take the 'Stuff' all for himself. This puts Billy 'The Kid' on his trail, dispassionately removing anyone in his way of the pursuit of his quarry. The bag and it's contents. As Louis desperately attempts to keep one step ahead, 'The Kid' closes in...
Christina (Milica Zec / USA) - A seduction, a love story, a break-up and a mysterious blonde figure who might be its cause, set against an iconic New York City backdrop.
My Mother's Jade (Irene Young / USA) - Ling, a teenager born and raised in the U.S., has a tendency toward American things: she speaks English even when spoken to in Chinese, isn't very conservative about the way she dresses (much to her Tiger Mom's dismay), and is secretly dating an older white boy whose calling in life is rock 'n' roll. One night, Ling's mom walks in on what looks like secret boyfriend halfway through the window and into Ling's bed. What starts as a lecture on house rules quickly escalates into a physical fight that leaves Ling feeling she's lost her mother, and her mother wondering if they ever had each other to begin with.
Bolero (Dennis Brucks / USA) - A story about a boy named Thomas who grows from being a small child to a victimized 10 year old subjected to the physical and emotional abuse of his twin older brothers. His only reprieve lies in playing with a small girl who lives beyond a vent in the wall and, together, they achieve liberation by giving the vicious twins a dose of their own medicine.
For more information and to purchase tickets for the NewFilmmakers LA Film Festival March 23rd 2013 screening, please visit http://www.newfilmmakersla.com. Submissions are also currently being accepted for consideration of future screenings.