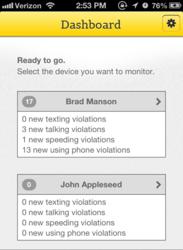 The difference between the American and European statistics is shocking but I'm alarmed even by the European numbers
Columbia, SC (PRWEB) March 14, 2013
Research released today by the Centers for Disease Prevention and Control demonstrates the importance of Canary, an app that helps stop distracted driving, including texting while driving. The CDC reported today that cellphone-related distracted driving is a much larger problem in the U.S. than in Europe.
"The difference between the American and European statistics is shocking but I'm alarmed even by the European numbers," said Jani Spede, CEO, The Canary Project, which developed the Canary app for iPhones and Android phones. "Technology is available to help solve this problem and we must all take advantage of it, worldwide. It's the only way to rewire our brains and end dangerous behavior."
Any time a person uses a smartphone in any way (including talking, texting, tweeting, surfing the web, etc.) while traveling at least 12 mph, the Canary app logs that activity and reports it to an accountability partner (e.g. parent, spouse, friend or even an employer).
"Users find the resulting reports sobering, because most have no idea how often they are risking their lives and the lives of others," Spede said. "Also, the knowledge that someone else will know about their actions helps them resist the temptation to talk or text while driving."
The Canary app is free to download from the iTunes and Google Play app stores and free to try for seven days. Continued use requires a one-time $9.99 subscription, which enables monitoring of up to 10 smartphones. A corporate version is also available to allow employers to monitor compliance with company driving policies. More information is available at http://www.thecanaryproject.com.
The CDC reported that 69 percent of U.S. drivers talk on their cellphones while driving, compared to 21 percent of drivers in the United Kingdom. The study also found that 31 percent of drivers in the United States read or send text messages or emails while driving, compared to 15 percent of drivers in Spain.
ABOUT THE CANARY PROJECT
The Canary Project (http://www.thecanaryproject.com) is an initiative dedicated to curbing distracted driving, especially among teen drivers. Collaborating with partners who share a passion for safe driving and saving lives, The Canary Project supports existing driving safety programs and creates educational and awareness resources that will help prevent distracted driving and create safer roads. See the Canary Project blog (http://thecanaryproject.com/blog/) Connect with The Canary Project on Facebook (https://www.facebook.com/pages/The-Canary-Project/109463462552882) and follow the organization on Twitter: @Canary_Project.
MEDIA CONTACT
Jani Spede
Jani Spede Public Relations
866-923-9980
jspede(at)spedepr(dot)com