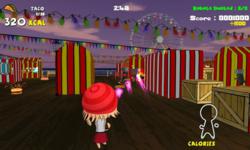 This is a critical time for us since the entire Kickstarter campaign $50,000 goal must be met for FriendsLearn to receive any of these funds .. we need our friends and followers to help us cross the finish line!
Redwood City, CA (PRWEB) March 14, 2013
As Silicon Valley gaming company, FriendsLearn's Kickstarter campaign — to develop 'social impact driven' game "Fooya with Friends" — enters its final week, the campaign only needs $15,000 more in donations to meet its $50,000 Kickstarter goal to fund the company's multiplayer expansion of its existing single player game, "Fooya". FriendsLearn is counting on its fans, supporters, social entrepreneurs and the Kickstarter community to help deliver the next version of this fun and engaging 3D online food fight game (third-person shooter style) — one with a serious mission to educate people throughout the world about the relationship between food, health and wellness.
Click: Fooya with Friends Kickstarter Page
As the campaign nears its completion deadline, it is enjoying a renewed momentum as a result of national media coverage in India following its recently concluded Reciprocity Wave public art competition to raise awareness about the Global crisis of heart-disease, diabetes and other diseases traced to diet and lifestyle. FriendsLearn co-organized this art competition in Chennai (India) on March 9th 2013 with sponsorship from India's leading cricket team in the Indian Premier League - The Chennai Super Kings and HDFC bank.
The event was intended to promote the mission of Fooya, to tackle the global health crisis surrounding obesity and nutrition related diseases, while boosting the company's ongoing Kickstarter campaign. Over 400 contestants in 3 categories created paintings, sketches, collages and posters inspired by the health crisis in heart disease and diabetes facing the nation.
"This is a critical time for us since the entire Kickstarter campaign $50,000 goal must be met for FriendsLearn to receive any of these funds," said Bhargav Sri Prakash, Founder and CEO of FriendsLearn." While gearing up for the final stretch of the campaign and excited about the partnerships and visibility that has emerged as a result of our outreach, we still need our friends and followers to help us cross the finish line."
FriendsLearn has already developed a single-player version of the game on Facebook and has been seeking support on Kickstarter in order to create Fooya with Friends, the multiplayer expansion of the existing single player game. Today, set in a 3D Carnival environment, Fooya offers players food-derived weapons and various scenarios to combat evil forces driving obesity. Players win by dodging unhealthy food thrown at them by their enemies, while they run around to burn calories to improve their health and burst their enemies with the most greasy, sugary, salty foods they can find!
Check out our single player alpha version of Fooya. "Like" us on Facebook
"By creating Fooya with Friends, we intend to start a global food fight to combat humanity's health crisis caused by greedy junk food profiteers. But creating a high performance real-time multi-player backend to support that scale takes a lot of time, skill and resources to produce," said Sri Prakash. "While this new level of engagement promises to deliver a hugely exciting experience for gamers, Fooya with Friends will continue to fight against the global health epidemic of obesity by producing a fast-paced environment that not only entertains but also subconsciously educates about the dangers of a bad diet."
Fooya with Friends is brought to you by FriendsLearn's 13-person team of passionate visionaries, who have proven expertise in executing innovative and successful games. Fooya with Friends draws from our deep experience, to deliver our most fun, impactful and far-reaching game.
About FriendsLearn
Based in Silicon Valley, California, FriendsLearn (http://www.friendslearn.com) delivers gamified learning experiences through wickedly educational games. The first game was launched in collaboration with the US Department of State's EducationUSA, to create a pioneering approach to advise, inform and compel international students to the United States, through a virtually immersive experience. "Your Five Steps to U.S Study" (the official gamified Facebook app from the U.S Department of State that is used to attract international students across the world to the United States. FriendsLearn also holds U.S Patents (U.S Patent Number 7,770,114) for innovations with "Vmerse" (a 3D multiplayer virtual campus exploration platform).
The next game to be launched, Fooya with Friends builds perfectly on our deep game experience and previous success, and is designed to teach us how to make better choices about the foods we eat.
Contact:
Jeff Lettes, CEO, Global Media Strategy Communications PR
jlettes(at)globalmediastrategy(dot)com
(408) 406-1161