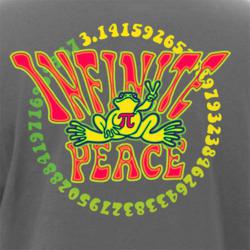 If there is anything that Peace Frogs stands for, it's infinite peace.
Gloucester, Va. (PRWEB) March 14, 2013
Constant over infinity. Irrational, yet transcendental. A cultural phenomenon that's more than just the appreciation for the ratio of the circumference of a circle to its diameter.
That's right. Pi. To celebrate a measurement that's been calculated to more than one trillion digits beyond its decimal point, on Pi Day March 14, 2013, Peace Frogs launched its newest design – Infinite Peace.
The Infinite Peace design features the traditional Peace Frog in the center, with the Greek letter for Pi on its body and the initial digits of Pi circling the design.
"If there is anything that Peace Frogs stands for, it's infinite peace," said Catesby Jones, founder and president of Peace Frogs. "Peace Frogs is more than a full line of clothing. It's a way to promote positive and optimistic thinking throughout the world."
Peace Frogs' Infinite Peace design is available in the Peace Frogs web store at http://www.peacefrogs.com. Know a clothing or gift store interested in carrying this new design? Visit http://www.peacefrogs.com/contact.
About Peace Frogs:
Established more than 25 years ago by Catesby Jones, the Virginia-based Peace Frogs apparel company promotes positively peaceful living. The apparel and gift products are featured online, in more than 800 specialty stores around the world and via an annual catalog. With 16 free standing stores and 20 licensees, the Peace Frogs brand grows in popularity each year. For more information about Peace Frogs, contact Catesby Jones at catesby@mindspring.com.