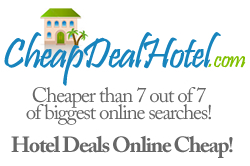 When selecting a specific hotel, find the true low price at Cheap Deal Hotel. Comparing confirms no one quotes lower rates despite contrary claims.
Pittsfield, MA (PRWEB) March 31, 2013
Financial Firebird's Cheap Hotel Deal site not only beats or matches the prices offered by competitor's online services, but on top of the low prices they make it a truly unmatched deal by now offering a limited time introductory 7% cash rebate on already discount hotel rates. While the words cheap and deal may conjure up images of inferior grade accommodations, the rooms offered at the Cheap Hotel Deal site cover a complete range from one star motels in rural America up to the finest five star luxury suites around the world like in the topical Turks and Caicos Islands, Grand Cayman and even some condominium resorts, only the prices beat or match other sites. Calculate in the 7% rebate and these Cheap Hotel Deals may stand as unbeatable anywhere.
Most hotels in the world require that reservation booking services not undercut the hotel's own published rates, resulting in online reservation services touting unbeatable rates, because while no one can beat them, just about everyone matches them. On the hotel price side CheapDealHotel.com stands with the group, you will be hard pressed to a find a room rate that looks cheap in comparison. Sometimes CheapDealHotel.com gets a special price, but most often all national services land within a few dollars. The difference comes in the form of bonus deals. To introduce the site, travelers may now receive a 7% cash rebate by mail. Figuring the rebate into the total price allows CheapDealHotel.com beat all 7 out of 7 of the best known hotel booking sites to save you money. They proudly display a table where they compare hotel prices from these 7 top hotel sites as well as the home page from the hotel being compared, and the value from CheapDealHotel.com wins everytime.
Cynical people may ask at this point "What's the catch?" As long as people understand the program no catch exists. To get the rebate one must fill out the rebate form and send it in after they complete their hotel stay, the rebate arrives a month or two later. How can this happen? Other big name websites spend enormous amounts of money on advertising and marketing. The Cheap Deal Hotel site must come to your attention via word of mouth, social media or an article such as the one here. The money saved on ads may then flow back to those who use it in the form of rebates. 80% to 95% of the hotels found on the big name sites will participate in the Cheap Deal Hotel program, but not all. Reservations made at Cheap Deal Hotel page will likely require payment at the time of the booking and will probably carry a cancellation fee or offer no option to cancel, so don't use the system for tentative or speculative trips. If all that sounds fine than start saving money on hotels and enjoy your stay.
The home page for the cheap hotel deals presents itself as optimized for United States Hotels, a subdomain also exists set up for cheap Canadian hotel deals with another for the UK coming in the future. Other international hotel reservations may be placed with a separate box on the right of the page.
Take advantage of these 7% rebates while available, in the future the developers expect to lower the rebate or offer another type of bonus. Book a trip, save money and enjoy a great journey.
About Cheap Deal Hotel
Cheap Deal Hotel stands with a group of hotel sites from Financial Firebird Corporation designed to help those who travel including its related sites Low Price Hotels and their Hotel Deals site designed to help charities raise money, Hotel Map pages or site to find a Broadway Hotel.