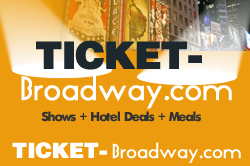 Few if any other websites preform this type analysis for lowest Broadway show prices.
New York, NY (PRWEB) March 21, 2013
Ticket Broadway, the Broadway show tickets and hotel site offering packages including $25 restaurant certificates introduced a new alerts and specials section to notify readers about changes in New York and touring theater events and tickets for plays at unusually discounted prices. Near the bottom of the main page viewers can find the new Broadway Show News area. Expect updates several times each week.
Sometimes readers may learn about show news such as Broadway openings or closings in New York City. Maybe find out about cast changes. Those in other areas may get the latest scoop on touring performances like The Book Of Mormon at the Bank of America Theatre Chicago or the Boston Opera House.
One of the most frequent posts in the new information box involves cheap show ticket alerts from proprietary software developed along with the Ticket Broadway sister site, for finding Tickets Cheapest. Recent posts, for example, notified viewers about orchestra seats to Jersey Boys on Broadway for only $58 each and Spiderman orchestra front and center tickets for only $83 each.
The system searches all play performances looking for particular dates with seats selling for prices below normal. In the case of resale tickets for sold out shows the tickets may represent a seller in a panic trying to get some money for tickets they can't use. Sometimes box office tickets appear at crazy low prices when a large number of seats remain unsold. This makes for a very valuable tool, especially for people who live right in New York City who can attend a play on any given date when ticket prices might be unusually low. Sometimes the new text box features premium seats in the orchestra section with extra discount prices. Most frequently the featured shows include the ones often sold out like tickets for Wicked or Book Of Mormon Broadway.
Few if any other websites preform this type of Broadway show price analysis. On top of knowing the performances with the best ticket prices, the tickets sold be the Ticket Broadway site beat 25 out of 25 competitors in a recent price comparison examination. For super deals on Broadway show tickets, hotels and a bonus $25 food certificate visit the Ticket-Broadway.com website.
About Ticket Broadway
Ticket Broadway and its sister sites, including Cheapest Tickets, all geared for the consumers looking for low prices, are affiliated with the Financial Firebird Corporation Travel Group, and stand among the top sites sought by travelers in search of vacation spots, tourist information, and products intended for people planning a trip.