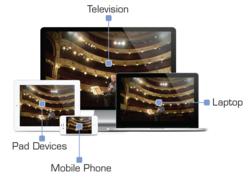 "We don't know of any other digital video distribution platform available that offers end users a true, high-perceived-value virtual DVD or Blu-ray-like experience including main menu, bonus features and chapter points, while offering publishers a branded
Livermore, CA (PRWEB) March 16, 2013
Acutrack is excited to announce the launch of "Acutrack VOD" - an enterprise-class, private label digital video distribution solution for DVD and Blu Ray publishers.
Acutrack VOD is a powerful global internet video distribution platform which allows you to distribute high quality full length video titles and deliver these videos to virtually any internet connected devices. This platform offers secure download and playback, and instant streaming access on desktop, mobile and smart TV.
"We don't know of any other digital video distribution platform available that offers end users a true, high-perceived-value virtual DVD or Blu-ray-like experience including main menu, bonus features and chapter points, while offering publishers a branded digital shop where they retain customer information and earn maximum share from the monetization of their video content," said, Asheesh Barman, Executive Vice President and CIO, Acutrack, Inc.
"We're very happy to be chosen by Acutrack", said Josh Mellicker, CEO of Leaping Brain Labs. "The combination of Acutrack's legendary quality client services, from encoding to graphics to product authoring, along with our digital ecosystem, offers video publishing clients a unique, powerful, high quality, reliable and cost-effective digital video distribution solution unlike anything else available."
Acutrack VOD is powered by Leaping Brain Labs "MOD Machine" digital media platform, which has delivered well over half a million video titles from a library of over 5,000 titles from some of the world's best known educational video publishing brands with 99%+ reliability.
"Acutrack VOD allows our clients to easily and securely distribute their content to a wide range of digital devices in a proven environment for EST (Electronic Sell-Thru). There is nothing like it on the planet!" added Barman.
About Acutrack, Inc.
Founded in 1992, Acutrack (http://www.acutrack.com) helps customers with development, manufacturing, and distribution of digital and print products. We enable our customers to create, publish, and deliver their content via Optical Media, Print Media and Digital Downloads worldwide. We give our customers the flexibility to produce products at any quantity needed with efficient and cost effective solutions. For more information, please visit http://www.acutrack.com.
About Leaping Brain Labs
Leaping Brain Labs is the creator of the world's finest platform for marketing, sales, delivery and presentation of video products via the internet. Learn more at http://www.leapingbrain.com