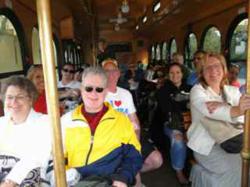 We really recognized an opportunity to provide a free shuttle service for tourists who have lay overs at Ft. Lauderdale Hollywood International Airport - Patricia Zeiler, Executive Director
Fort Lauderdale, Florida (PRWEB) March 18, 2013
March marks the 39th consecutive month of increased tourism in Fort Lauderdale. And just how are the eager tourists finding their way to downtown Ft. Lauderdale you ask? Simple, Ft. Lauderdale's wave n' ride Sun Trolley system.
Serving as the transportation component for the Ft. Lauderdale excursion package, which began mid-January, the Sun Trolley has seen a huge increase over the past two months in airport passenger ridership topping 200 passengers daily.
"We really recognized an opportunity to provide a free shuttle service for tourists who have lay overs at Ft. Lauderdale Hollywood International Airport," states Sun Trolley's Executive Director Patricia Zeiler. "We developed an excursion plan that partnered with Bags to Go so that tourists could essentially leave their bags safely at the airport and go off and explore Ft. Lauderdale's for a couple of hours instead of hanging around the airport."
The Sun Trolley runs to and from the airport regularly Saturday and Sunday between 9:00 a.m. and 5:00 p.m. Our airport trolley's pick passengers up and drop them off at the Ft. Lauderdale Historical Society on SW 2nd Street leaving them in walking distance to Las Olas Boulevard, Las Olas Riverfront, Himarshee Street and the Riverwalk," states Zeiler.
The airport shuttle route is just one of Sun Trolley's seven routes. Passengers simply flag the driver anywhere along the route to board. Once aboard, the fare is 50¢ for one trip or $2 for all day, hop-on-hop off service. The Sun Trolley Tracker, a new mobile app for Android and iPhone users, provides real time location of all trolleys.
To download printable route maps, the mobile app or to learn more visit http://www.suntrolley.com or call (954) 761-3543. Like what SunTrolley is doing? Show it at facebook.com/sun-trolley.
ABOUT TMA (Transportation Management Association)
Serving Fort Lauderdale's residents and visitors since 1993, the Downtown Fort Lauderdale Transportation Management Association (TMA) manages the Sun Trolley and administers the community bus service of the City of Fort Lauderdale. In addition to managing five routes, TMA oversees a carpooling service with incentives for employees who elect to carpool, connects Fort Lauderdale neighborhoods to Broward County Transit and TriRail, and coordinates employee transit programs in local businesses. For more info visit http://www.suntrolley.com.