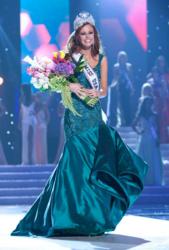 "The gowns are simply some of the most gorgeous gowns that have ever come through our doors."
Dallas, Texas (PRWEB) March 15, 2013
Terry Costa, Dallas' leading Pageant, Prom and formal-wear provider is honored to present celebrity designer Sherri Hill. Hill will appear for one day only on Saturday, March 16th. Hill's collection is second to none and worn by some of the top Pageant winners in the country and beyond.
"Sherri Hill's Couture Collection is absolutely stunning," says Tina Loyd, Terry Costa's CEO and owner. "The gowns are simply some of the most gorgeous gowns that have ever come through our doors. We are honored that Ms. Hill has agreed to join us for the day to create one-of-a-kind, winning gowns for our fabulous clients."
Hill will appear from 10am-4pm on Saturday and is available to clients to design custom gowns available to order on the spot (appointment preferred). Her designs have been worn by pageant contestants and winners alike, including Miss USA 2011 Alyssa Campanella, Miss America 2010 Caressa Cameron and Miss USA 2009 Kristen Dalton. She has also dressed many for their red carpet moments and performances including Selena Gomez, Bella Thorne, Renee Olmstead, Diana Argon, Miranda Lambert, Paris Hilton and the Kardashians.
Terry Costa will feature Hill's stunning Couture Collection all week in their newly-constructed Couture Room, complete with a runway and stage lighting. "When it comes to pageant competition, we leave nothing to chance," says Loyd.
"Our Couture Room is mirrored from all angles and features stage-quality lighting so you know exactly what the judges will see. There's really nothing like it in the area."
To book your appointment, please call 972-385-6100. For more information regarding Hill's appearance or to shop the Sherri Hill Prom and Pageant collections visit Terry Costa's website at http://www.terrycosta.com.