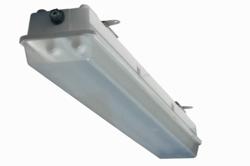 The HALP-48-2L-LED-G2 series represent our most powerful linear Class 1 Division 2 LED light to date for corrosive hazardous locations.
Kemp, TX 75143 (PRWEB) March 15, 2013
The HALP-48-2L-LED-G2 Marine Environment LED light from Larson Electronics is designed specifically for hazardous location lighting where corrosion and wetness is a constant issue. This high output LED fixture is constructed of non corrosive materials including a glass fiber reinforced polyester housing, poured in cover gasket, stainless steel cover latches, and impact resistant acrylic diffuser, providing excellent protection against the damaging effects of salt water environments. Larson Electronics has also upgraded these fixtures with their second generation LED tubes, giving these lights improved effectiveness with over 5,000 lumens of light produced from 56 watts of power use. These second generation LED tubes also provide 50,000+ hours of operational life and very good resistance to damage from vibration and impacts, making them well suited to industrial operations where machinery and equipment is run on a continual basis. The HALP-48-2L-LED-G2 is also an easily serviced unit. Unlike other LED fixtures designed to replace fluorescent units, the lamps in these fixtures can be easily removed and replaced. Fixtures with integrated LED lights require that the entire assembly be replaced when the unit reaches the end of its operational life. This LED light allows operators to replace the lamps only, reducing maintenance costs and allowing upgrades to more powerful and efficient lamps as LED technology progresses. These hazardous location light fixtures are approved for Class 1 Division 2, Groups A, B, C, D and UL 1598A Marine Type approved as well. They can operate with voltages of 120 VAC to 277 VAC and are available in 12/24 VDC configurations for use with low voltages. The HALP-48-2L-LED-G2 explosion proof LED light is ideal for use in petrochemical processing applications and offshore platform operations where hazardous gases and vapors may be encountered and provide a highly durable lighting solution that can stand up to the rigors of the marine environment.
"The HALP-48-2L-LED-G2 series represent our most powerful linear Class 1 Division 2 LED light to date for corrosive hazardous locations," said Rob Bresnahan with LarsonElectronics.com. "With the advent of our 28 watt LED tubes, we are able to deliver more than 5500 lumens in a single four foot linear fixture."
Larson Electronics produces a full range of explosion proof and hazardous location lighting equipment, LED work lights, portable LED lights, LED light towers, and LED boat lights. To view the entire Larson Electronics line of industrial grade lighting solutions, visit them on the web at Larsonelectronics.com. You can also call 1-800-369-6671 to learn more about all of Larson Electronics' lighting products or call 1-214-616-6180 for international inquires.