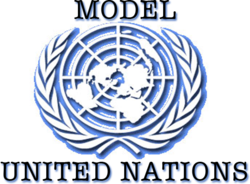 The NCAA says, "We envision a world comprised of civically-engaged people who strive for peaceful, multi-lateral conflict resolution and equitable, sustainable human development."
New York, NY (PRWEB) March 18, 2013
Every year, thousands of New York Visitors congregate in New York City for National Model United Nations, one of the most exciting NY Events for college and university students hoping to make a positive change in the world. New York hotels like The Paramount create compelling special offers to attract the many attendees to this and many other NY Events. See all of The Paramount Hotel Offers here >
In addition to their packed schedule of conferences and seminars, delegates get to enjoy many New York attractions in their free time, like New York restaurants, New York City landmarks, and NYC activities. Touring New York is just as much a part of the experience of National Model United Nations as is the student's studies because it gives them an opportunity to learn more about, and embrace, the life and culture of the people of New York City.
More than 5,000 delegates from colleges and universities in the United States and around the world come to New York City each year to discuss issues related to nations all over the globe. Delegates to National Model United Nations, which takes place March 17 to March 21, enjoy conferences, lectures, and hands-on learning opportunities in a real-life setting, inside of the United Nations Headquarters.
The theme for National Model United Nations 2013 is 'Change Your World,' and at New York events like this, young people across the U.S. and beyond will practice making important world-policy decisions in a form that features 20 pre-selected committees.
College students begin to prepare for their experience at National Model United Nations long before they attend the conference. Each delegate is well-schooled in the structure and history of the United Nations, their assigned Member State or Non-Governmental Organization, their committee, their role in the committee, and their agenda as it pertains to topics in background guides given to students prior to the conference.
The National Collegiate Conference Associate (NCCA), which sponsors the National Model United Nations, has a 40-year history of providing outstanding college-level programs to the world's next generation of international leaders.
The NCAA seeks to advance the understanding of the United Nations among university students, and be a positive influence in their lives by encouraging them to take an active, participatory role in international issues. National Model United Nations helps to make these future policy-makers better global citizens, and give them a quality education that focuses on cooperation as a means to resolve conflict.
The NCAA says, "We envision a world comprised of civically-engaged people who strive for peaceful, multi-lateral conflict resolution and equitable, sustainable human development."
The entire experience at NY Events like National Model United Nations includes conference sessions, briefings, seminars, free time to Explore NYC, and a Delegate Dance at the end of the event.
About Paramount Hotel – A New York Hotel:
The Paramount Hotel is unrivaled for combining style, comfort, and affordability in the most popular part of New York City. Having been part of the New York scene since the late 1920s, Paramount Hotel sits in the middle of Times Square, close to all things Manhattan – from the Broadway Theater District, Empire State Building, and neighborhoods of Greenwich Village and SoHo to Central Park, Rockefeller Center, and Madison Avenue.
A true New York Hotel - The Paramount Hotel is ideal for business travelers and leisure guests. Each of 597 Guest Rooms and Guest Suites with Boutique Furnishings and posh Bathrooms, on-site Boardroom, Fitness Center, Business Center, and friendly Concierge Service.
Looking for a great rate for an upcoming visit to New York, Check Rates, Make Reservations or call: call toll free: 877-692-0803.
Visit the Paramount Hotel Blog for interesting New York Travel Articles.