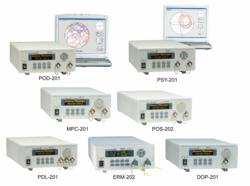 The need for polarization measurement and control has now spread beyond the laboratory to the factory floor. The 200-series instruments are optimized for use in automated testing equipment (ATE).
Chino, CA (PRWEB) March 15, 2013
General Photonics, a market leader in polarization measurement and management, announced today new versions of all of its primary polarization measurement and control instruments. According to General Photonics' president Dr. Steve Yao, "With the increasing commercialization of high data-rate transceivers and highly sensitive fiber optic sensor networks, the need for polarization measurement and control has spread beyond the laboratory to the factory floor. The 200-series instruments are easy to use in factory settings or as automated test equipment (ATE)."
The new 200-series instrument line includes:
MPC-201 multifunction polarization controller
ERM-202 dual or single-channel polarization extinction ratio meter
DOP-201 DOP meter
PDL-201 PDL multimeter
POS-20X polarization stabilizer (various configurations available for maximum flexibility)
POD-201 polarimeter (various configurations available for different applications)
PSY-201 polarization synthesizer/analyzer
All of the new instruments have OLED graphic displays for easy viewing at a distance, ergonomic keypads, universal power supplies, faster electronics, and faster, more robust communication interfaces. Most of the measurement instruments also have configurable analog monitor voltage outputs for use in automated testing. In every case, the instruments have been optimized for improved performance, greater user control, and ease of use.
Availability and Live Demo at OFC 2013:
The 200-series instruments will be demonstrated at OFC / NFOEC at the Anaheim Convention Center. Visitors to the event may stop by General Photonics' booth #2650 for a product demonstration March 19-21, 2013, during show hours. The MPC-201, MPC-202, and ERM-202 are available now. The DOP-201, PDL-201, POS-20X, PSY-201, and POD-201 will be available in 12 to 14 weeks. Purchasing details and additional specifications can be made available by contacting General Photonics via email at sales(at)generalphotonics(dot)com.
About General Photonics:
Founded in 1995, General Photonics is an award-winning manufacturer of advanced optical polarization modules and instruments. The company holds numerous patents on photonic designs, and its staff has authored a number of published articles on polarization and delay control. Customers include research organizations, manufacturers of communication systems, aerospace companies and medical system manufacturers.
The company is privately held, with headquarters and manufacturing facilities in Southern California. A design, engineering and technical support center is located in Beijing, China. Sales worldwide are conducted through a network of distributors and representatives. More information can be found at the company's website, http://www.generalphotonics.com.
References to corporate, product or other names may be trademarks or registered trademarks of their respective owners.